September 20th, 2012
10 mi / time / mph avg. / ft. climbing
Staying at Lower Pines Campground
Today, the first and only off-day scheduled in the trip, was a day to rest. And a day to eat. Maybe the latter being more of a priority than the former. I put down a quick 1600 calories before I even left the tent in the morning. Apple juice, banana, yogurt, 2.5 bagels, and a frosted cheese Danish.
Most of the campground seemed pretty accustomed to the "rising with the light" thing I'm used to, and if they weren't, the explosive slams of all the dumpsters being emptied by the garbage truck woke up any stragglers. But hardly anyone was out in the park when I hit the trail at 8am. Which was unfortunate for them, because the temperatures were perfect, the light was beautiful, and there was hardly anyone else out there.
Yosemite Falls, the spectacular waterfall seen from the valley floor, has stopped running by this time of year, so I went to see two year-round waterfalls, Vernal and Nevada. Vernal is a thin ribbon that drops right down the face of a sheer cliff into a round pool, as if it wasn't expecting the road to end. So it's a bit similar to Yosemite in that way (but not in scale). Nevada is more of a gusher, falling wildly and then splaying out on a granite slope halfway down. The trail gives a view of both falls from below and at the top, so you definitely get your money's worth on the loop that hits them both. Vernal had this really cool Emerald Pool at the top, and then a Silver Apron, which is basically the world's most-tempting, all-natural Slip'n'Slide flowing across a sheet of granite. There are signs all around warning that swimming isn't allowed there, because of course this Slip'n'Slide ends in a fall to your death.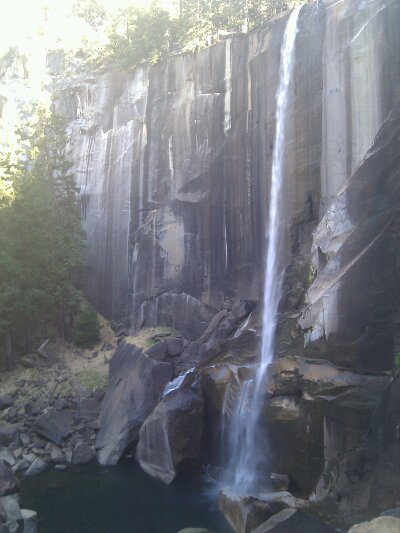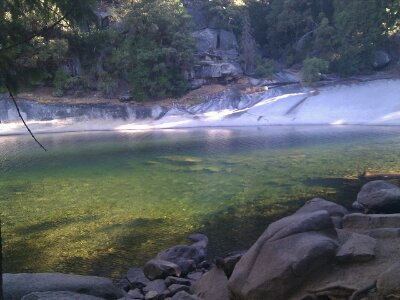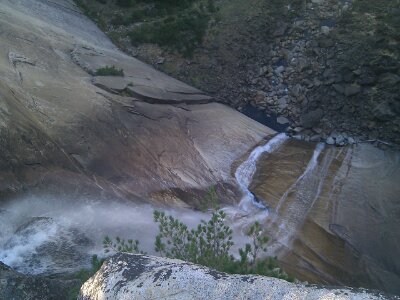 At the top of Nevada Falls at 10am I took a break for 1000 calories of 2nd breakfast, consisting of the last 1.5 bagels from the 6-pack, some mini-donuts, and a can of sliced peaches in heavy syrup (and that's the key, the store almost tricked me with some "lite" garbage!) The trip back was via the John Muir Trail, and luckily the stupid mule train headed down another branch just before I caught up to them. Around noon I rejoined the section of trail I started out on four hours earlier, but this time, it was crammed with people heading up, in the full heat of the sun, with the harsh light not doing Yosemite's crags any favors. Maybe that's why, yesterday, I felt like a lot of people I saw coming off the trails in the late afternoon had pretty grim looks for people hiking in such an awesome place. Start earlier, people!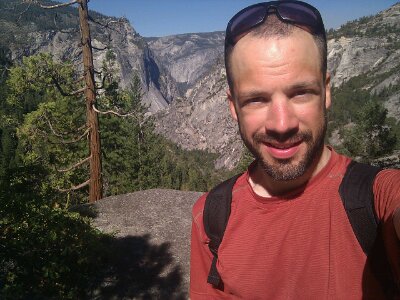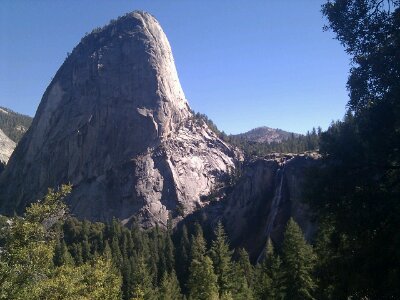 So a 7 mile hike that took me up (and down) 1900 feet might not exactly be "easy", but I was done 5 or 6 hours before I'd normally be done riding. I lazed in my cool, pine-shaded campsite for bit, then hopped on the unloaded bike to see if there was anything interesting at Yosemite Village or the Lodge. There really wasn't, and surprisingly, the lodge isn't quite the architectural centerpiece that it is at many other National Parks. But I picked up some groceries for another 2000 calories back at camp. Ham sandwich on ciabatta, hummus, carrots, a load of chips, and a Limited Edition Mammoth brew featuring wet wild-grown hops.
Eventually the sun moved around a tree and began shining on my picnic table, but I wasn't done eating yet so I grabbed my beer and bag of donuts and walked down to the river, found a nice rock to sit on, and put my feet in the cool, clear, flowing water. Ah, now that's the stuff. When I finished my donuts and eventually mustered the energy to haul my ass off the rock, I took off downstream, just tromping right through the shallow water. I climbed on top of a big old stump, I walked down the length of a huge fallen tree and discovered at the end that it bounced like a diving board, I walked under a bridge and listened to my voice echo with a little girl playing there, and on the other side found a deep emerald pool where I finally couldn't resist anymore, took off my shirt, stashed my phone on a rock, and dove in. Oh, so cold. And the sun so warm. And Half Dome watching me the whole time. It was perfect. It seems kind of dumb that my best memory from Yosemite will be not some epic climb up a cliff, or visually soaking in an otherworldly scene, but simply playing around in a river. But that's what it is!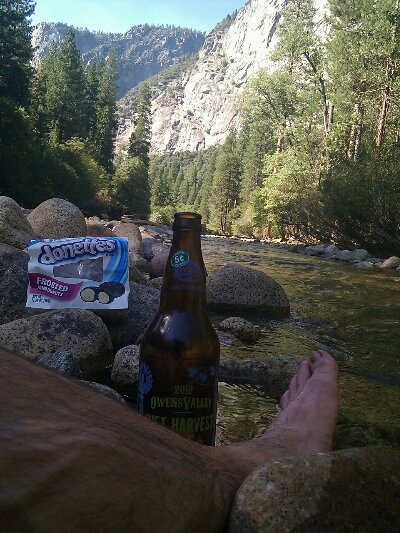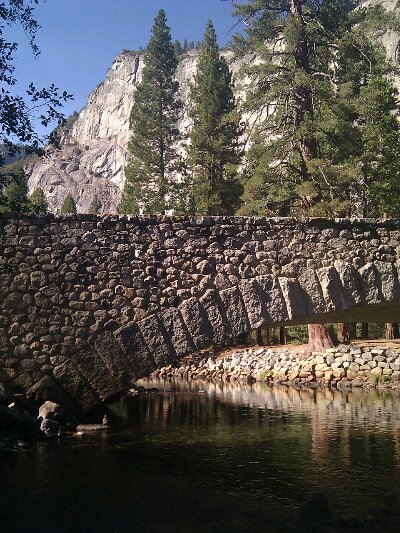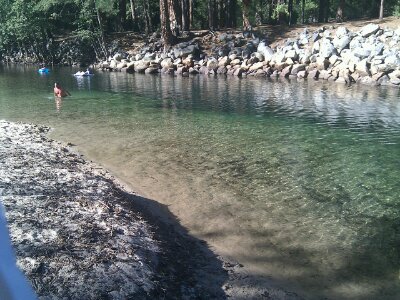 I dried up, did some bike maintenance, then headed over to Curry Village's Pizza Deck (which seemed to have an even higher German percentage visiting than the rest of the park that already seemed half-German). If I lowball my 8-slice sausage/mushroom pizza (plus yet another Mammoth beer) at 2000 calories, that puts me at 6600 calories for the day. The crazy thing is, it probably still wasn't enough! I noticed lots of people with their phones out sitting on the deck at the building across the way, and hey, it's because they have open WiFi! And the only power outlet I've seen in the whole park, and shockingly, no one was using it. I totally didn't expect it to work, but it did. Service was a bit dodgy, which meant my return to camp was a bit longer after sunset than I wanted, but I managed to upload the last couple days' entries. Back to work tomorrow! (no, not that work, the work where no one pays me and my accomplishments exist only in my memory!)