June 10th, 2014
51.2 mi / 5:55:23 time / 8.6 mph avg. 2079 ft. climbing
We had a leisurely pancake breakfast, after which I had to make an emergency run to the toilet. That made me a bit nervous (would the shocking twist to our story be that I'm the one who holds back Rett's adventure on our final day?), but luckily as the day went on it seemed to be just an isolated episode. Phew.
We headed back for our final stretch on the Erie Canal trail, but before we even got there I noticed Rett's rear tire going flat. Even though our extra distance yesterday shortened today by a few miles, the hills would be the biggest we've faced by far, so we still didn't have a whole lot of time to spend not riding. The hole appeared to be caused by a tiny sharp bit of gravel embedding itself in the rubber, so we went ahead with my knife and tried to pick out any other embedded bits we could find. And then it makes me question whether yesterday's air boost was worth it or not; the firmer tires definitely help you go faster, but I feel like that firmness increases the risk of something pushing its way through the tire. So it's always a bit of a gamble, or, yet another balancing act that's part of bike touring. On the plus side, it made us think of Mike and Martha since we finally got use out of a tube they had generously procured for us way back in Ohio.
For a stretch the trail was the woodsiest yet, with the trees so close in it almost felt like mountain bike single-track. The ups and downs as the trail meandered away from the canal added to that feeling too.
In Newark we met a guy boating down the canal who loaned us the key to a really nice bathroom/shower facility. Apparently these are at every lock, and available to canal travelers. We'll have to remember that for next time! And this one was cleverly painted up with pretty and historical 3D murals, so we did in fact find some time to smell the roses.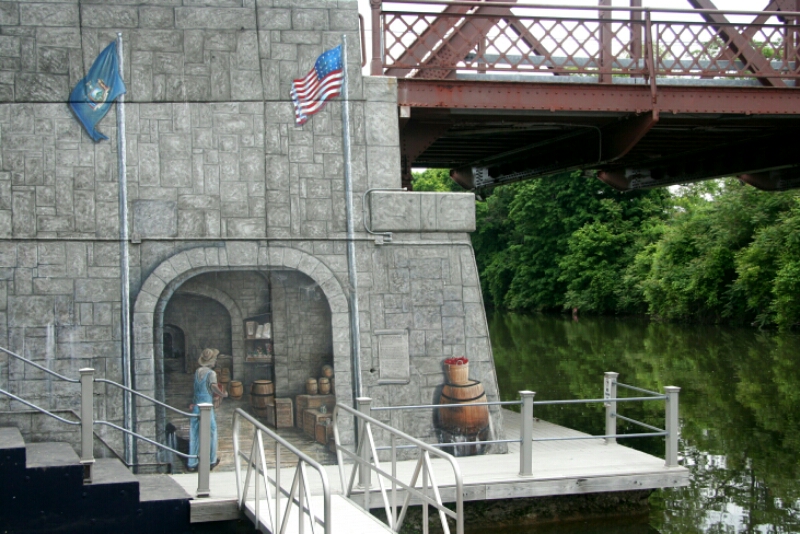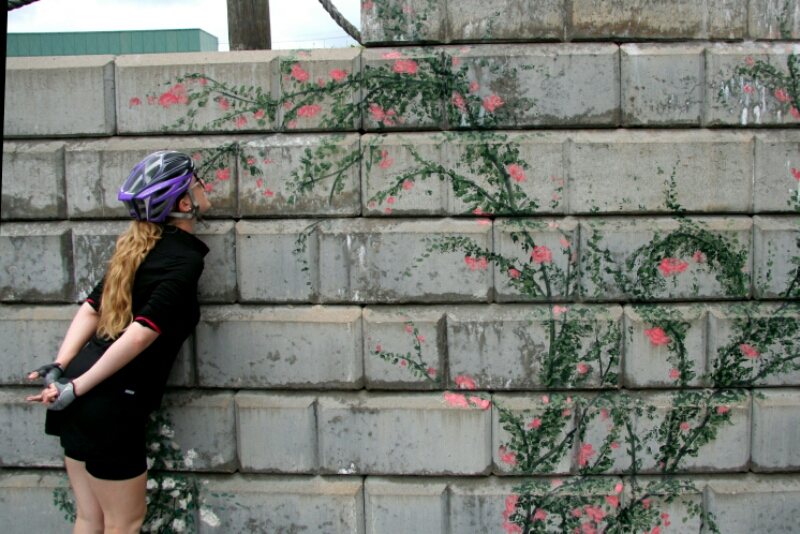 We finally reached the end of our 3 days on the Erie Canal trail at Lyons. We would be veering off south across the hills to reach the northern tips of the Finger Lakes. The maps showed that there would be no signs of civilization for the 25-30 miles between Lyons and Auburn, so we fueled up with a relatively early McDonald's lunch, and the went off to see what the hills of New York held for us. I could tell that the fear of the unknown was putting a lot of stress on Rett, and it reminded me of the time Dennis and I had to climb the indomitable Moki Dugway in Utah. In both cases I wanted my touring partner to have as much information as possible about the road ahead, but since I've never actually been on the roads myself, there's a limit to how much I can guarantee, and I again try my best to find a balance: prevent unpleasant surprises without inducing unnecessary terrors. I don't feel like I found that balance very well in either case, but I think conquering the Moki Dugway ended up being one of Dennis's proudest moments of that trip, so I could only hope that Rett might end with a similar outcome.
For the section between Lyons and Auburn, it felt like a return to the day in Amish country in Indiana. The up-and-down hills were larger, but the roads were just as empty, there were smaller farms tended by people with non-motorized vehicles, and it was beautiful country.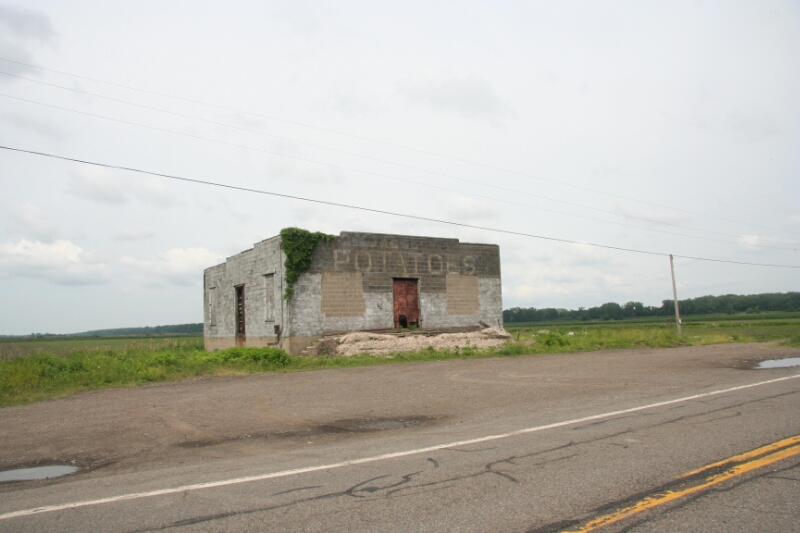 Yesterday, while riding over the rough gravel of the under-construction trail, Rett half-jokingly asked if there were any road surfaces I hadn't yet taken her on this trip. Well, it turns out I had one surprise left: a half mile of dirt road over a steep hill, maintained only in the summer months. She was able to power at least halfway up it, and then we walked up the rest of the way (and much of the way down the other side).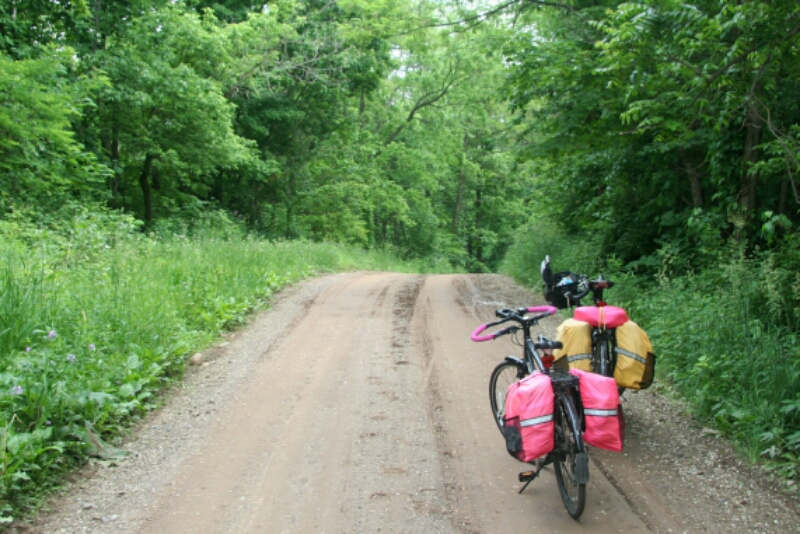 Since we were on such random backroads, it was quite a surprise when, while taking a roadside break, a couple of young guys on loaded bikes rolled up the hill behind us. The fact that we stood chatting for at least 5 minutes with them just standing in the middle of road showed how untrafficed the area is. Eventually they decided to follow our lead and take a food break; they were a couple of fresh-out-of-college friends going from Buffalo to Manhattan, having quite an adventure on equipment much less-specialized than our own.
One of Rett's motivations for this trip was to have such an adventure, one that she feels like she never had an opportunity to experience when she was at that young-and-stupid age. I think one of the reasons we associate such coming-of-age journeys with that particular period of life is simply because people tend to become more conservative and set-in-their-ways as they get older. Or more bluntly, they get scared. I think research has shown that's more a reality of human biology than a value judgment, but that's what makes me so incredibly impressed with Rett's journey, and I don't mean just the last 16 days. I mean the whole last year, when she decided she wanted to go on a bike tour and said "I don't yet know how to ride a bike? Who cares? I'm not scared!" When she had a few painful crashes while learning: "I'll get right back on, it hurts like hell but I know now how to avoid that in the future. I'm not scared!" When she has faced discomfort and pain and giant trucks and broken roads and thieving raccoons and barking dogs and blazing sun and cold rain and giant hills and crack motels: "I've already made it this far, I can get through the rest. I'm not scared!" It requires a sense of adventure to truly have an adventure, and I've loved learning that Rett clearly has that adventure embedded in her soul.
And in between all that bad stuff, I think she was able to also enjoy the flip-side of that "adventure" coin: the feeling of new strength, the perfect country roads, the leaping deer, the cute doggies out for walks, the rare but glorious tailwinds, the 25mph downhills, and the beautiful natural places to pitch a tent for the night.
I know I sure did, and my years of bike-touring experience meant that my adventure-coin landed much more frequently with the positive side up than it did for Rett. She continually felt bad that her tour was "too easy" for me, but it was exactly what I needed after my last tour, where I decided I needed to stop pushing my limits so much. I don't think I could have achieved that without her help. And I was honored to be able to do whatever I could to help her succeed in reaching her goals, and that was a new type of work for me to learn on this trip. I in return felt bad that her share of the journey didn't come as enjoyably as mine did; I wish I could have shared some of my positive coin-flips with her. But with her new experience, the next one definitely will be easier for her. Yes, since the first day, through everything, she's continually been talking about ideas for the next one. Which is kind of awesome. On this adventure we've definitely confirmed that we make a good team, so we'd have to be really dumb to not continue having many more adventures together long into the future.
When, at the top of another hill, we reached the sign indicating the city limits of Auburn (the loud, unkempt neighbor eight miles from Skaneateles), it brought Rett to tears, and I think not entirely of the happy kind. Hungry and hurting, we got a tub of Ben & Jerry's Red Velvet ice cream at a gas station, iced her knees, and as we sat at the picnic table, slowly those last miles started seeming less impossible, even though they were almost entirely up the biggest climb of the whole trip. We shared a last emotional moment with just the two of us together, got one more burst of air in our tires, and then headed out to finish this thing.
As I gave some directions, it was fun to have Rett out front saying "I've got it from here!" She was powering up the hills, and when she turned to look to the side I could spy a grin breaking across her mouth. As we got closer, I started waving to every random person we saw, hollering that we'd come all the way from Chicago. And then once we reached the crest of the final hill and saw the big downhill into Skaneateles, Rett let loose some wonderful screams of joy.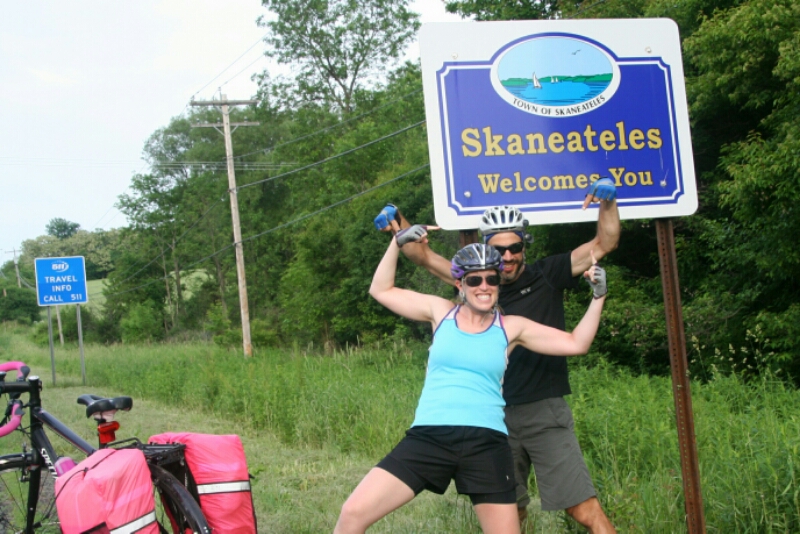 She routed us onto streets that would make the climb back up to her dad's place a bit easier, and I thought how funny and awesome it was that this, 760 miles and 16 days into a six-state, two-country bike tour, was the first time she'd ever been able to ride her bike through her own childhood neighborhood. And she looked so beautiful to me as she did so.
Cresting the final rise on State Street Road, I glimpsed two figures out in front of the familiar house. Rett's Dad and her sister Sophie had been keeping a vigil and were there with arms raised and love in their hearts as we rolled up the driveway. Rett leaped off her bike like she'd just had all of her joints replaced, raised her arms in kind, and shared big hugs with her proud family. And her proud boyfriend. Hundreds of miles, gallons of sweat, more than a few tears, and several drops of blood after leaving her home, she had made it home again. That's a complete adventure, and an adventure completed. Now let's all have a beer, right?