June 9th, 2014
60.1 mi /  6:52:03 time / 8.7 mph avg. / 411 ft. climbing
Canaltown Bed & Breakfast
One thing I forgot to get at the grocery store last night was ice for Rett's knees. She didn't ask me at all to go back for some, so I took that (and the relative ease at which she'd been getting on and off the bike, and walking) as a sign that she was slowly recovering from critical levels. But less than a mile into the ride, the pain re-appeared with a vengeance, her energy levels were keeping her speeds low, and she was doubting her ability to complete the 56 mile day we had scheduled. I tried to assure her (and at this point, remind her, since she now has the experience herself) that the figurative winds change frequently throughout a day of bike touring, even when the actual winds don't. A meal, different temperatures, or even just your body entering a different phase of energy-processing can turn a bad day good (or worse, a good day bad). My spoken thoughts were somewhat more optimistic than the ones I held internally, but what else could we do but carry on and see what the day held?
Entenmann's and fruit in the motel fueled us for 15 miles to Brockport and Colleen's Cafe. As we pulled up at 11:03, Colleen overheard us wondering if breakfast was still on, and she came outside and assured us that she'd make us whatever we wanted. My breakfast burrito and Rett's fruit-filled pancakes, along with sausage and home fries, we're some of the best breakfast items we've had, and Colleen's obvious personal and opinionated touch on her cafe made it one of my favorite places overall.
We had an exciting moment when we saw one of the nicely appointed rented canal touring boats coming the other direction. Not only was the boat company registered in Skaneateles, the boat was named Skaneateles II, and it had bicycles on it! A sign! Also, there were baby ducklings about.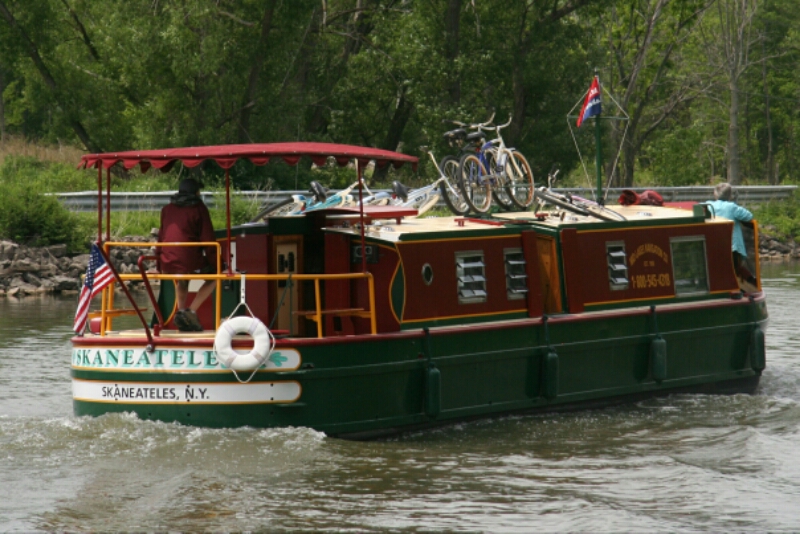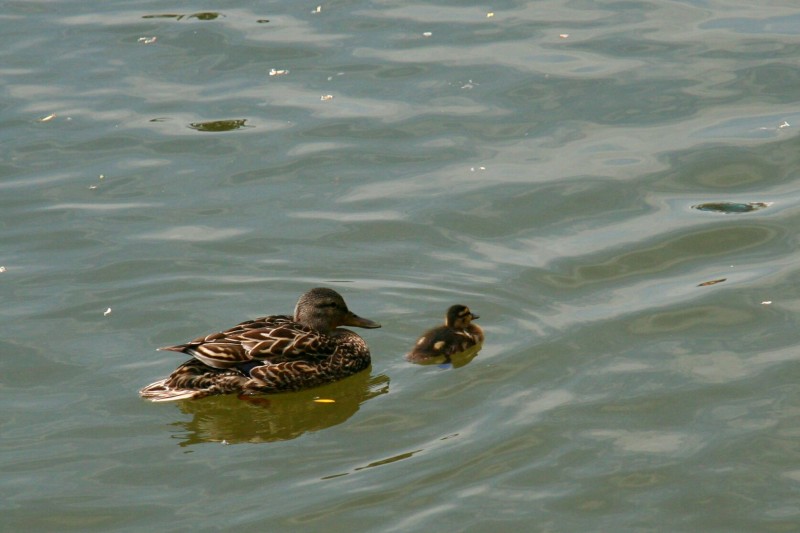 In the opposite direction of newborn ducks, the canal trail gave us a new species to add to our roadkill list: fish. This trip has produced more volume and diversity of roadkill than any trip I've ever been on. There has been raccoon, squirrel, chipmunk, rabbit, possum, woodchuck, fox, deer, cat, bat, turtle, frog, snake (maybe including one killed by me, oops!), a variety of birds, and probably a couple others we're forgetting.
The canal trail again gave us the advantage of the trees to shelter us from the light north winds, and although Rett's energy picked up somewhat after second-breakfast, we were still looking forward to the paved section around Rochester to speed us along. I realized that I had gone way too long in checking Rett's tire pressure, and discovered that her front tire at least had been an additional drag on her that she didn't need. My mini-pump can't inflate to really high pressures, but it was enough for her to at least notice a difference. Next time I'll have to remember to be more proactive than that, grr!
Unfortunately the paved section, while smoother, came with more ups and downs, either to rise to meet roadways, or pass underneath them (and boy are there a lot of highways entering and exiting Rochester!) Add in the longitudinal bumps from tree roots and such, and I'm not sure the pavement increased our speed at all. But it was cool to make the 3-bridge crossing at the unusual water-intersection of the Erie Canal and the Gennessee River, at a park I had been to when visiting my friend Dan in Rochester years ago.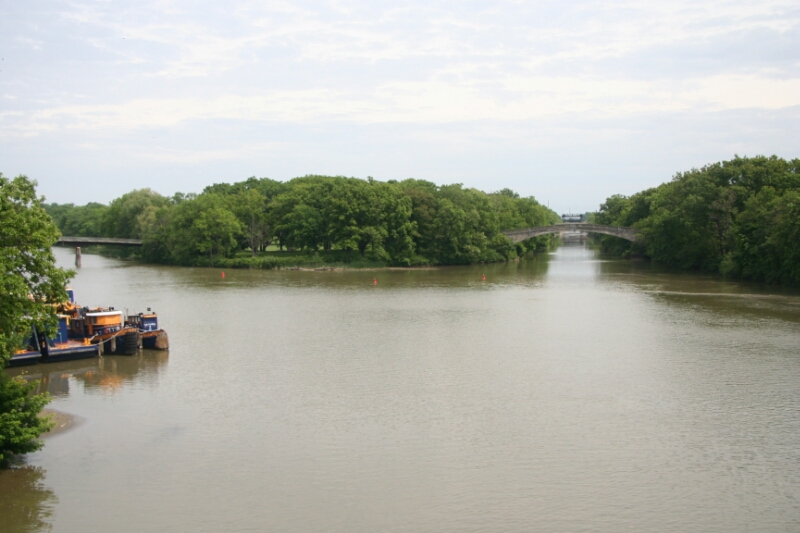 When we reached the cute historic suburb of Pittsford, Rett spotted a bike shop with a free compressed air hose right outside, so I got all our tires good and hard. They also sold the brand of bike shorts that seem to work for her, so we checked out some of those but didn't come away with anything. The pair of hers that she's basically been wearing every day (and I've been washing every night) should at least survive the next two days.
Aladdin's Natural Eatery across the street had a nice canal-view balcony, good Greek-oriented food, and with a glass of wine (and a good Rochester Scotch Ale for me), Rett's day seemed to be reaching its hoped-for turning point. We had originally planned a final night of camping, for free, at a canalside park, but the lack of a real bathroom, her aches, and the impending hills of the next day motivated Rett to ask if there were any motel options nearby, even if it meant more riding today. I was pretty sure there weren't but then I discovered a couple of B&Bs in Palmyra a few miles further, right on our route. I called and got the rates for one of them (Canaltown B&B), and said we'd get back to them. After finishing up our lunch/dinner, and while continuing to research other options, they called back and let us know about another room they'd "forgotten" about that was $20 cheaper. Hmm, seems like we did some unintentional haggling there. We'll take it!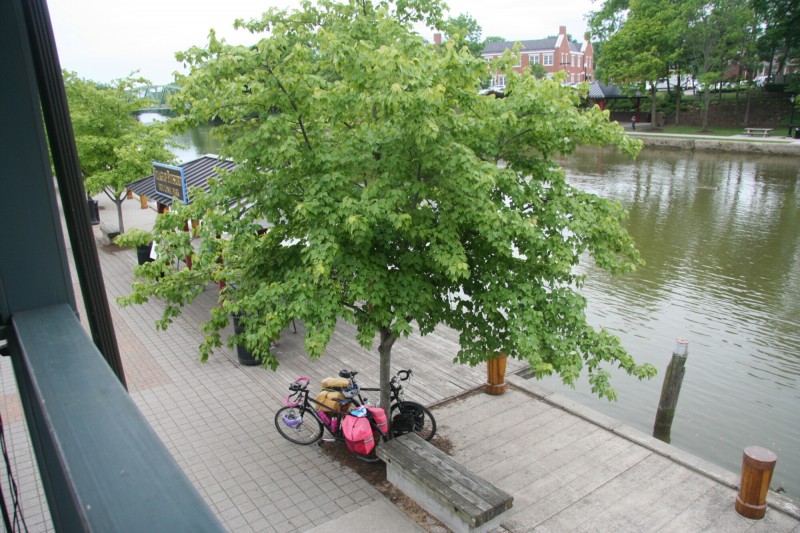 It was already 6pm, and we estimated we'd make it to Palmyra by around 8pm, easily making it our longest day on the bikes. And once the paved/brick section of trail through Pittsford ended, we were suddenly on very rough, large, and nearly unrideable gravel. Back down to 7mph. Ugh. I flagged down a Sarah Palin look-alike (who was actually riding an unmodified version of Rett's bike) and she assured us the trail would improve in a mile or so. Turns out we hit the section in its pimply adolescent stage, in the transitional construction period between its smooth gravel youth and its paved adulthood. The surface did improve somewhat, but it remained under construction with plenty more rough patches all the way to the next town of Fairport. There were plenty of people on mountain or hybrid bikes who didn't seem much fazed by it, but on loaded touring bikes it's a different story.
But then we hit pavement again, and Rett was off like a rocket. Even once we returned to the normal smooth gravel she was still flying. The full tires and diminished winds of evening surely played a role, but the major factor was that mysterious internal wind-shift that's something that just seems to be a part of bike touring. And it might even be one of the most important lessons bike touring can teach you: there is a spring after every winter, a sunset after every storm.
55 miles into a day when she didn't think she'd be able to 5, Rett was going fast enough where drafting would once again be effective, but for the first time on the trip, her speed was so high that I couldn't help add much to it. We were definitely making up the time that the construction stole from us. The character of the trail changed again (as it had many times already), this time getting more wooded, narrow, and remote. We started seeing the first tree-covered hills rising on the other side of the canal, and passed through an almost-squatters neighborhood that felt like it could have been deep in the Louisiana Bayou.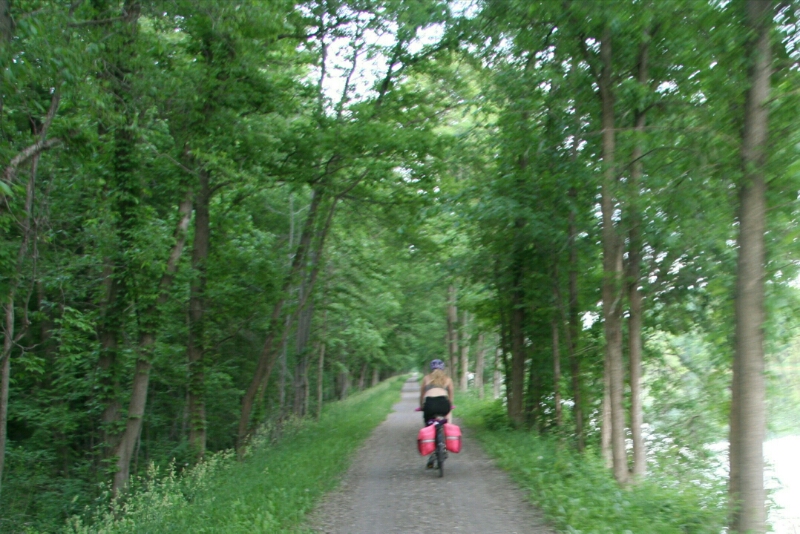 We got off the trail at Palmyra, which happens to be the place where Joseph Smith started up Mormonism. But there is religious (semi-) diversity too, with the main crossroads at the center of town having a major church on each of the four corners. So I was a bit concerned if we'd be in for a preachin' at the B&B, but nope, they were totally cool. We had an uncomfortable moment though as I dug into my pannier for a personal check to pay for our room, only to find one wet and disintegrated from yesterday's rain. Luckily I had one more in there that was damp but largely intact, and they were kind enough to let us dry it out overnight and write it the next morning. They provided some ice packs for Rett's knees, she got a soak in the multi-room shag-carpeted bathroom filled with hundreds of towels, and we put together one more bed-picnic with some of the last food from our bags and a bottle of wine from Pittsford. Our next (and final!) day would now be almost 4 miles shorter than planned; hopefully today's rising momentum would carry over into tomorrow's hills!