September 16th, 2016
47.0 mi / 3:55:38 time / 12.0 mph avg. / 2645 ft. climbing
Staying at Bangor Motel 6
The forecast said it would be a cold morning, but I wasn't expecting 38 degrees! And everything soaked in condensation made it even colder. Since Rett was cold the night before when it was 20 degrees warmer, I wanted her to just stay warm in the tent while I got us ready to go, got coffee made, and maybe got a fire started. But she was so concerned about getting up and down the many hills and into Bangor in time to get her new sunglasses that there was no stopping her from packing up the inside of the tent before I even had a chance to start relighting the fire.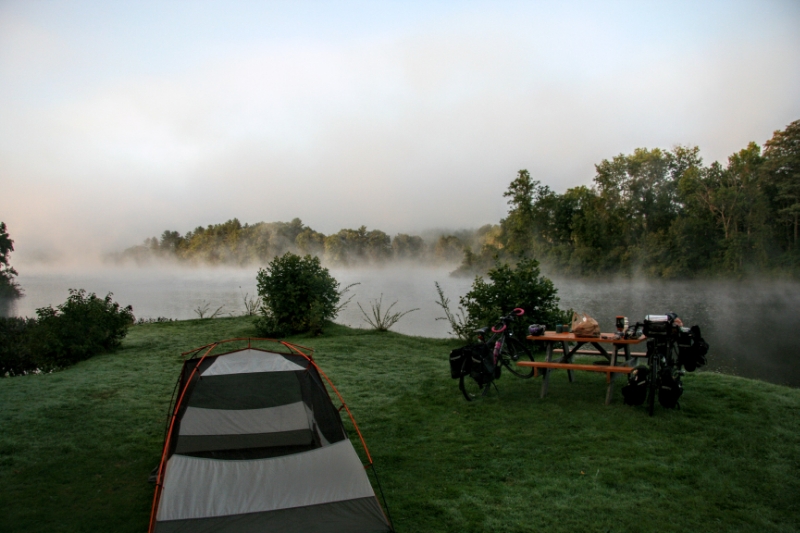 Once she was done getting ready in the relatively warm bathroom, and I had discovered that restarting the fire was hopeless, there was little left to do but start riding immediately to warm up. I still had packing and drying left to do, so in a rarity, I sent her down the road with me to catch up later.
Once I started riding, it took at least 30 minutes to track her down. And the whole way I was pushing at 100%, something I don't normally do when I'm right behind her and letting her set the pace. I suddenly realized that Rett is pushing at that intensity all the time, and thus having a lot of fun sucked out of her tour, in a way I didn't fully understand until that moment.
After a gas-station breakfast, eaten at an outdoor table in the rapidly warming morning, and after she apologized for the thousandth time for her pain and "slowness", I apologized for the thousandth time for wrecking her relatively-relaxed tour, and underestimating the magnitude and effect of the endless hills when planning the route. Particularly since that was the main goal of this tour, to make it more comfortable than her first one. And whether you want to call it incompetence, ignorance, or an honest mistake, I had clearly failed at that goal. She made a clear and strong argument to me that none of it was my "fault" and that she couldn't do this thing that she loves (bike touring) at all without my help, and that I should shut the hell up with my apologies. But the stubborn nut in me still makes me wonder why she loves bike touring when, under my guidance, it ends up involving so much pain. But whether I understand it or not, she at least got me to believe it.
A bunch more hills brought the mood down again, only for a stop at a mom-and-pop apple orchard brought them up again. Cider and our packed lunch at a roadside picnic table gave us that relaxed "bike touring" vibe that has seemed fairly hard to come by these days.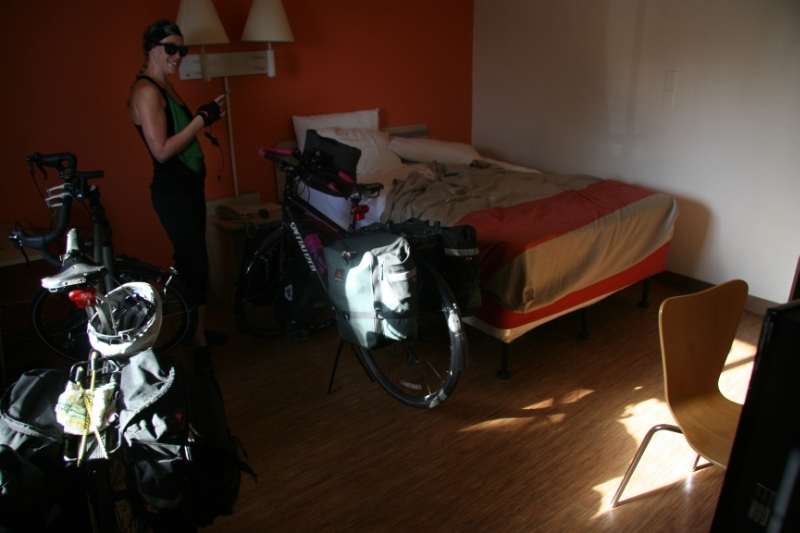 Then it was onto the Bangor Motel 6, which had the best room for bike parking I've ever seen. Tons of space, newly redecorated, with any problems solved under a coat of paint. I had to gather a stack of rocks from an empty lot to prop up my end of the bed, and I spread out the tent to dry out in the same lot. Add in the laundry we did, and we were probably the lowest-class residents of the not-very-high-class motel.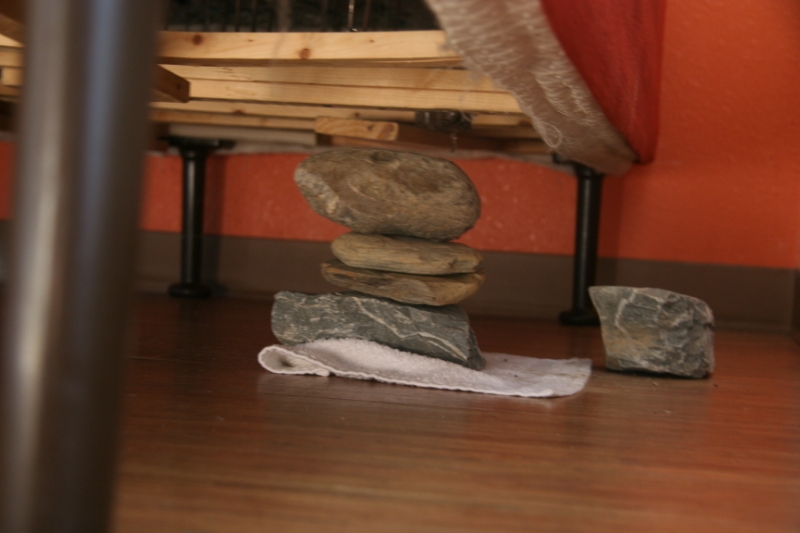 We then took an Uber to the mall on the other side of town, Rett picked out frames and actually got her glasses in an hour (made at one of four machines in the country capable of that with Rett's prescription), and additionally got her some more quality outerwear from a going-out-of-business outdoor store. After spending all that money and Ubering back, we returned to our proper class with a carried-out pizza and beer brought back to our room, and HGTV on the screen while we took to our phones and tried to figure out what the hell we were going to do about the rain threatening to ruin our upcoming stay in Acadia National Park.