September 20th, 2016
36.1 mi / 3:10:32 time / 11.4 mph avg. / 1933 ft. climbing
Staying at Camden Hills State Park
Today was planned as our second "easy" day in a row, but this time because Camden Hills State Park, one of the last public camping opportunities on this oddly campground-free section of the Atlantic Coast, was closer than we ideally would have liked it to be. But there was a good mountain to hike there, so it wouldn't actually be an "easy" day overall.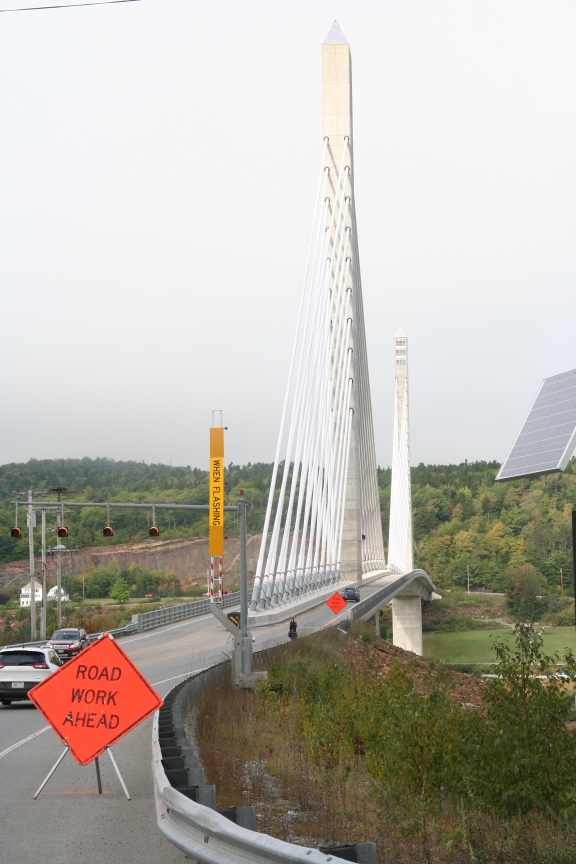 We briefly met another touring cyclist, supposedly heading to Key West, but given that our previous innkeeper told us about him spending two nights there a day before us, and the fact that we saw him coming out of a hospital, that might be a bit ambitious. At least it made us feel like our thirtysomething-mile days aren't that short after all!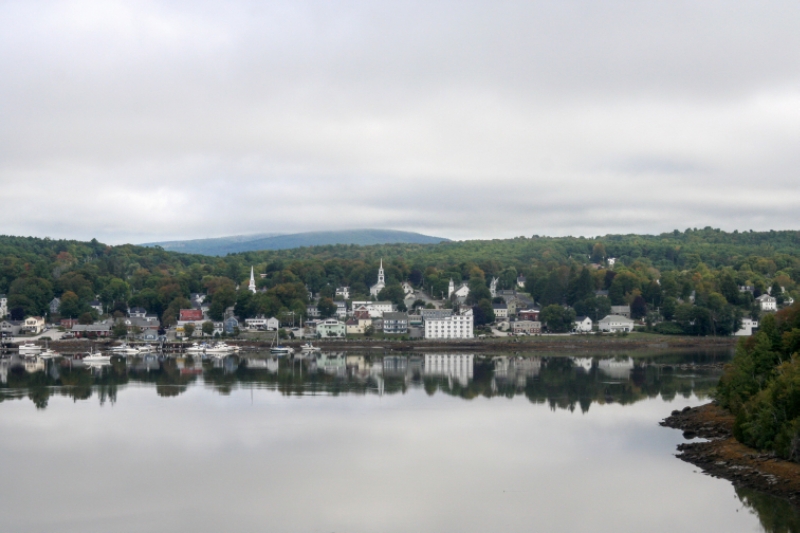 We went through some pretty harbor towns, had lunch at an oceanfront restaurant, climbed a bunch of hills, and made it to the park by midafternoon.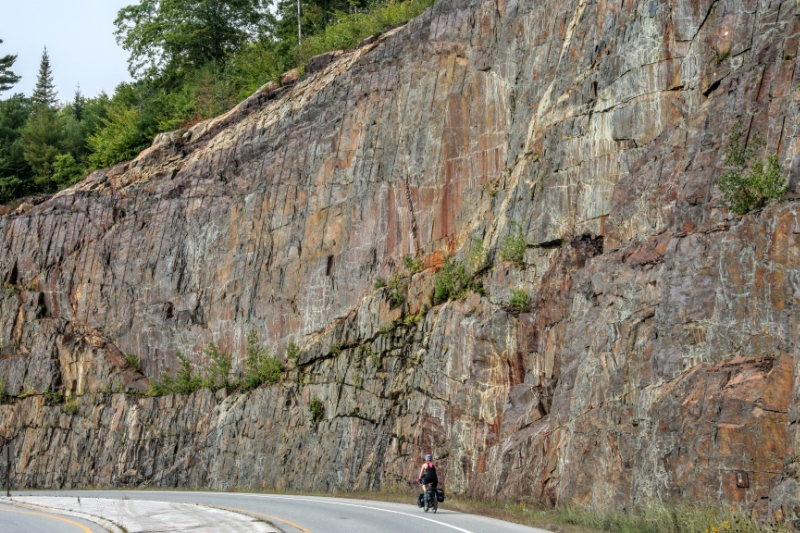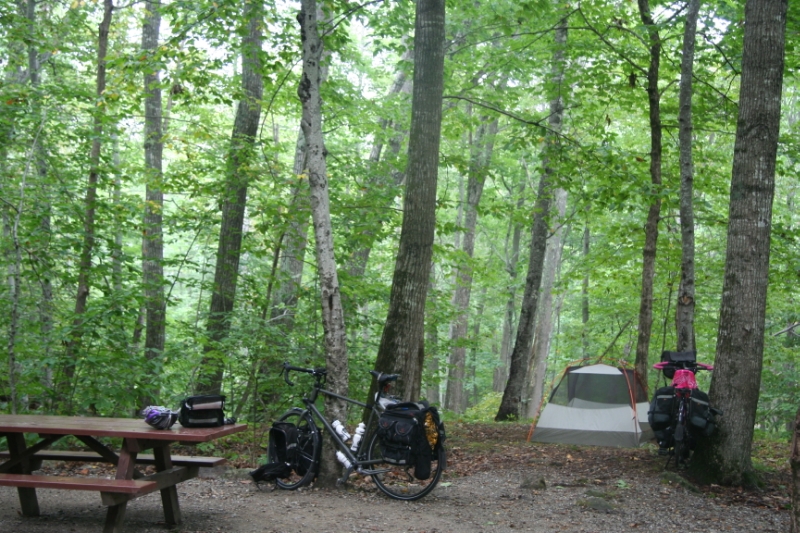 The idea was to hike to the top of 1385′ Mt. Megunticook, a taller mountain than anything except Cadillac Mountain at Acadia. Then hike down to Mt. Battie, and down from there to the luxury-cute town of Camden for a nice dinner. And figure a way back to the campground after that. Since the forecast was for sun all day, we figured it would be a good make-up for our Acadia hike when all the mountain views were into a white abyss of fog.
It turns out that ocean weather is different than the weather I'm used to. While the day may have technically been cloud-free by some meteorological definition, we saw very little sun all day due to the layers of fog. Still, we headed up the mountain hoping for the best.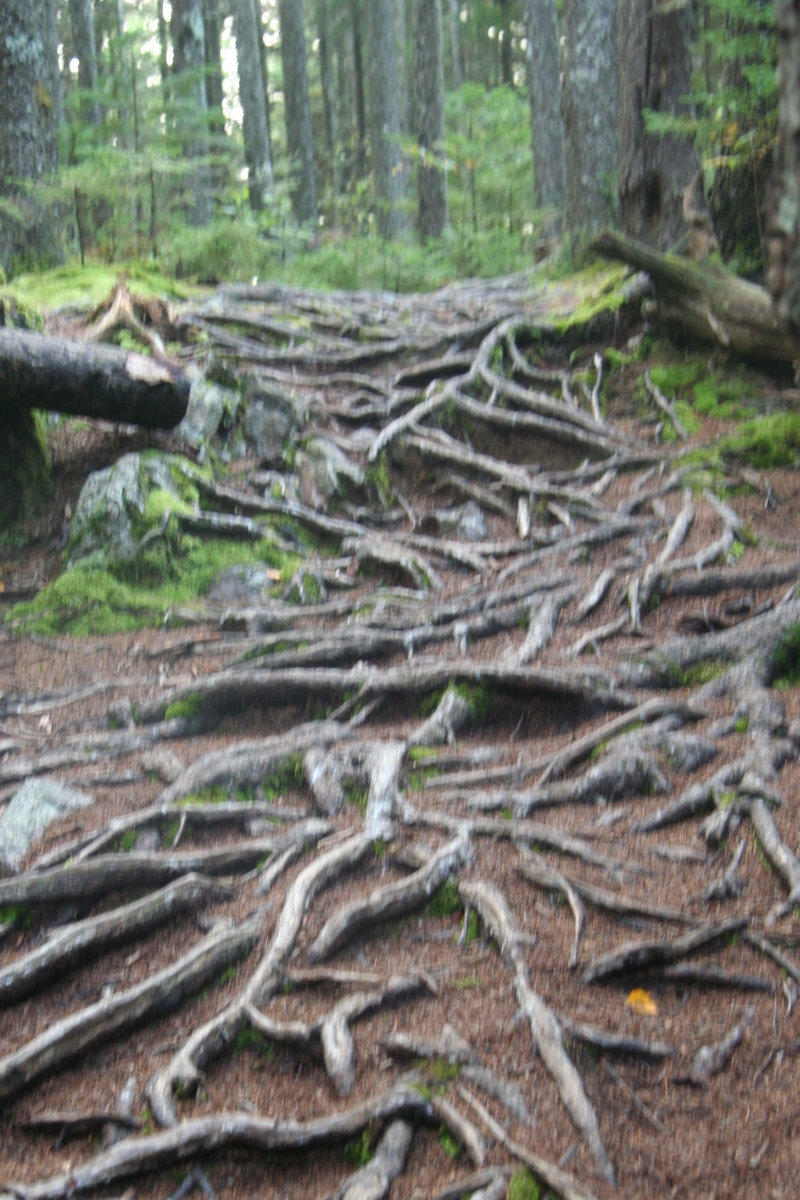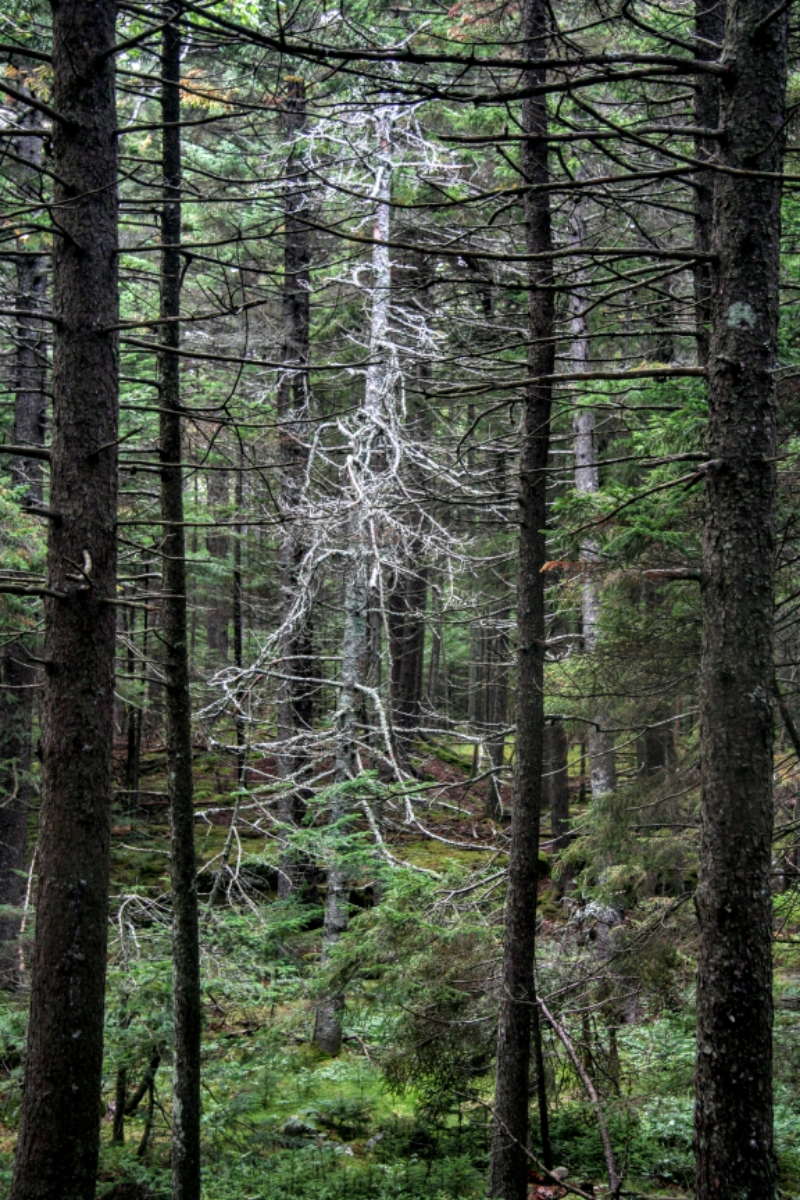 And we got something very close to the best. A rocky, rooty, inexorable climb through a varied forest unlike anything we get in the Midwest. And when we finally hit the cliffside viewpoint 1300′ up, the sun through the fog lighting the town and harbor and forest far below took our breath away. Rett declared it a match for Tuscany, her gold-standard for places to be. It was incredible, one of our best moments of the whole trip.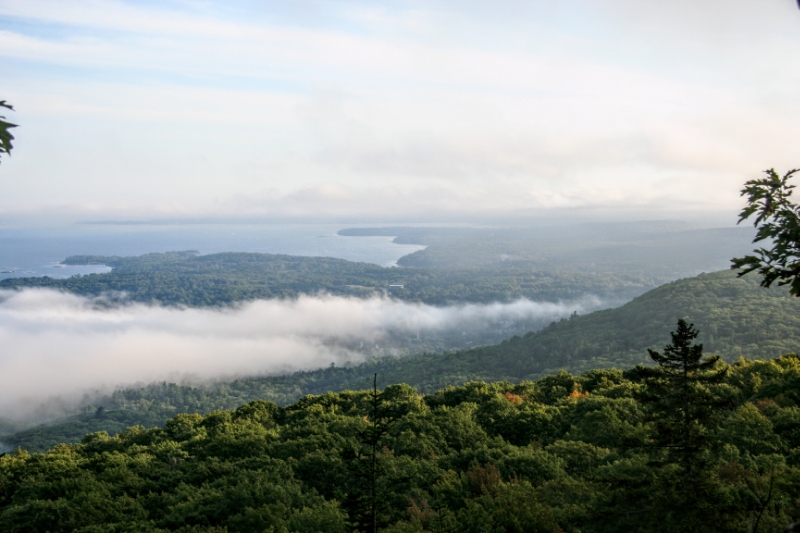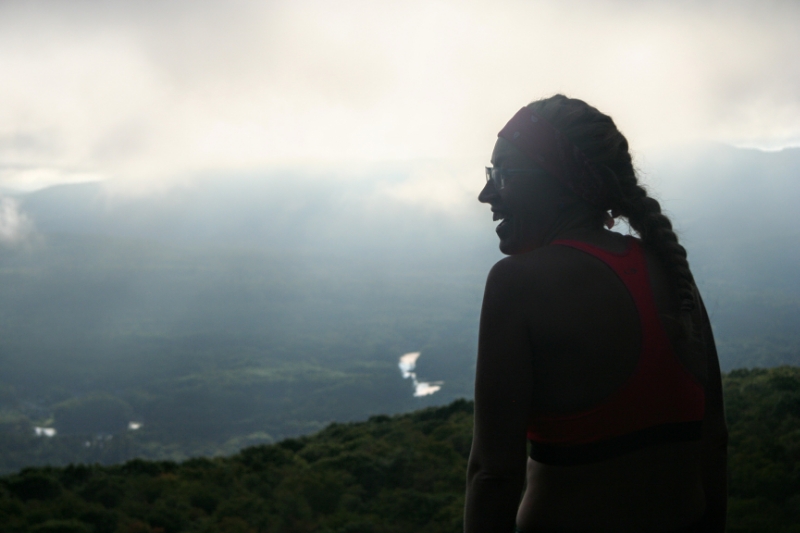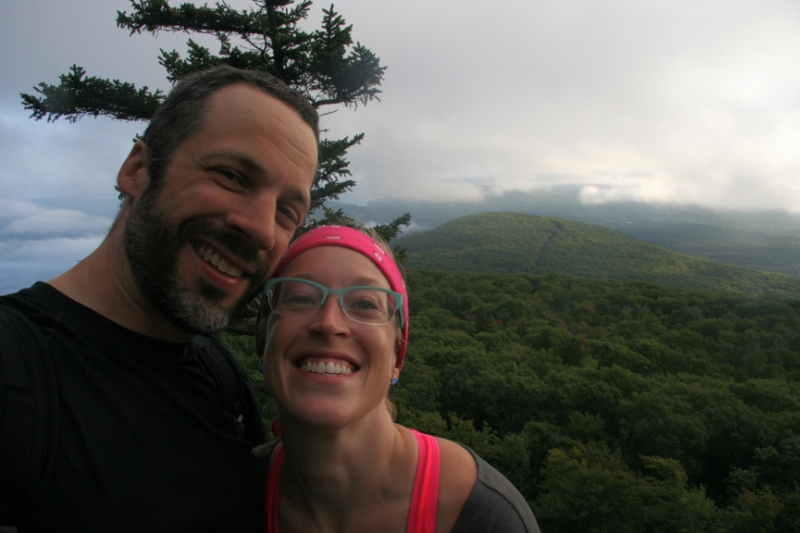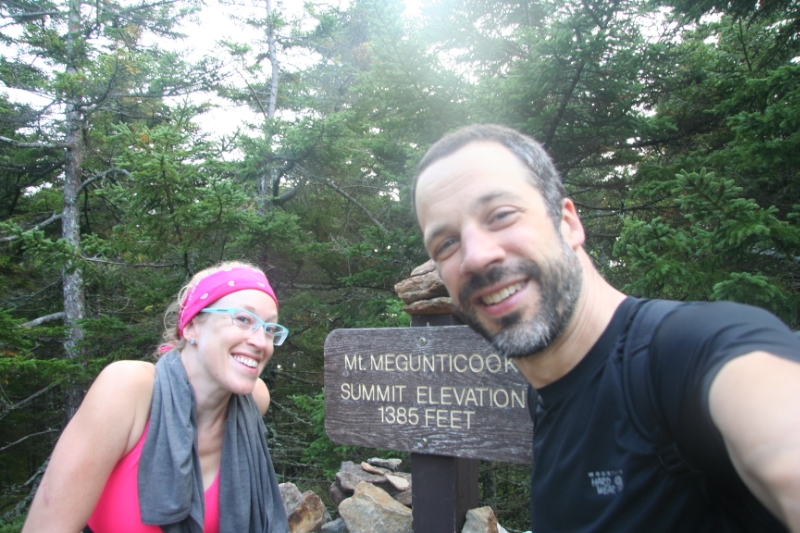 And then from those glorious heights, everything tumbled down to complete shit.
Stupidly heading all the way to the summit marker meant that there was no chance for us to make the hike down to Camden for dinner before sunset. Our best option was to make it down to a park road that we could then walk back to our site in the dark, and that wasn't a great option.
And then, not far from the road, Rett took a tumble clambering down a slippery rock, badly bruising her thigh, back, and knee. She was able to limp out to the road, and luckily the last car driving down the road from the Mt. Battie summit was nice enough to stop and drive us the mile back to our campsite.
That was basically the last bit of good fortune. To clean her abrasions, Rett winced through a cold shower, since after she limped to the bathhouse and stripped down, we discovered that "cold" shockingly turned out to be the only option. Then we didn't have any true dinner backup in place. Delivery? No, Camden turned out to be too fancy of a town to have any Domino's chains or anything else like that delivered. The takeout place right near the park entrance? Closed on Tuesday (it was Tuesday). Grocery store? Too far on the other side of town for me to ride through in the dark, when Rett would be alone in the tent being assaulted by storms of raining acorns. We had plenty of calories in our packs, it just wasn't the kind of stuff we usually have for dinner. But I was at least relieved that Rett, who often just won't eat if the options don't match her desires, put down enough food while holed up in our tent to keep her strength up. Cheese and crackers, Mike & Ikes (Red Rageous), and spicy cashews from India (thanks Dennis! And Saxenas!) that luckily we had saved and carried all this time.
I was far more angry with myself than I was a week ago when my route over the mountains pushed Rett beyond the comfort point. In that case, she eventually convinced me that estimating how difficult hills would be for her wasn't completely predictable, and that I shouldn't blame myself as much as I had been. But in this case, we had just done a very similar hike up and down a mountain a few days ago. Everything was predictable. But I still bit off a hiking route that was way more than we could chew in the time we had, and somehow completely forgot that going down the steep rocky slopes of Maine takes way longer than going up.
Worse, I felt like these two "easy" days on the bike were allowing Rett to finally recover somewhat from those two days over the mountains that did so much damage, and would allow her to finish the tour in some level of comfort. Now, all chance of that was gone, and it would be a grind through pain the rest of the way. Once again, I had failed in my goal of making this a comfortable tour for Rett, and at this point, I'm actually worried that she's starting to believe that pain is simply a part of bike touring. It really isn't, and someday I would love to be able to prove that to her. Unfortunately that day likely won't come anytime soon.