September 22nd, 2012
51.86 mi / 6:10:2i6 time / 8.3 mph avg. / 7487 ft. climbing
Staying at Azalea Campground
The picnic-table sleeping worked just fine, I got a good sleep though it did get cool enough that I had to use my sleeping bag and not just the liner. Unfortunately I woke with a bit of an upset stomach, which was distressing because it brought back memories of food poisoning on my first tour and how swiftly and utterly it decimated my perfectly-running engine. I definitely don't have time for any engine breakdowns; on the contrary, today I need my engine running almost as strongly as yesterday!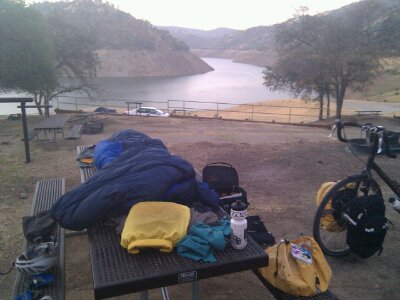 The first 10 miles wound me around all the branches of Pine Flat Lake, mostly keeping me some 1000 feet above the water level. The whole stretch was again devoid of nearly all traffic. There are people who live in this area, though I'm not really sure why. It's not like they live "on the lake", they live on some dried-out hill way above the lake. I did pass one property with a pen of black pigs in the front, two vicious black dogs that luckily were held by the decrepit fence, and a black pickup truck with a swastika proudly painted on the door. I guess I know why they live here.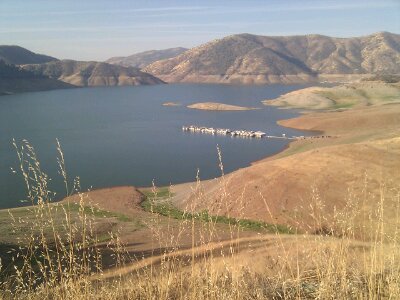 First breakfast went down fine, but as I rode along it wasn't pleasant to think about what I wanted to eat for second breakfast. But I knew I needed the calories. When I arrived at Doyal's Store in Piedra, there was a pow-wow going on out front. It turns out the guy who leases the building is being evicted, and they were in the process of shutting down the store. Luckily for me half the shelves were still there and they were still open for business, but it might be trouble for a touring cyclists who comes by on this route next week, because there just aren't many services in this area. The milk and granola bars and Rice Krispie Treats I got went down ok, so that was good news. Next to the store is the library, and together they comprise the only two non-movable buildings in the "town" of Piedra. It looked like it was open about 8 hours a week, but their WiFi was open and worked from outside so that was plenty for me.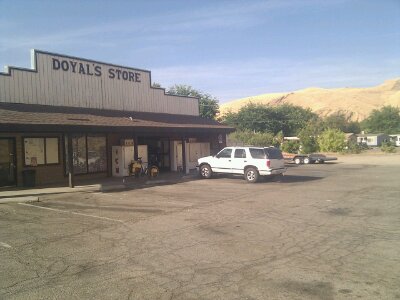 Piedra was at 540 feet, and I basically had to travel down and west to it just so I could cross over the river draining Pine Flat Lake, and then I would head back east upstream on the southern side. That "easy" climb of the day might have been as hard as the one 4 times bigger. 1200 feet at 8%, and since it was still a local backroad (with more free-ranging cattle), the grades were much steeper than on state or national highways. It seemed to achieve that 8% by alternating between 6% and 10%, which at least gave me a chance to "rest" on the easy sections.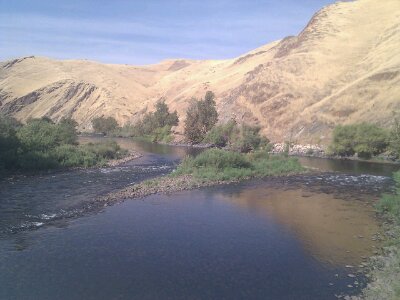 Coming down the other side, I went a bit off-route to Squaw Valley, because I knew I would need to refuel for the big climb. It was only 11:30, but my stomach seemed ok, and the pastrami sandwich I got at Bear Valley Pizza went down fine. The problem was the 3 glasses of Pepsi I had, which tasted so good in the already-hot morning, but would keep me filled with bubbles for the rest of the day.
Then I started the 5200 foot climb up to Kings Canyon National Park. Unlike the backroad climbs, this was a long, steady, 20-mile mid-grade (5%) climb the whole way, much like my climb up to Lassen. Except here, my thermometer hovered around the 100 degree mark and the pine-tree shade didn't appear to cool things down until I got well over 1000 feet. With the heat, the climbing, the load of Pepsi, and probably my continuing stomach issues, it was difficult to be consuming the calories I ought to for such a climb. I was lucky to be able to refill my bottles at the Snowline Motel, one of the only places along the upper stretches, because I definitely was going through the water.
In short, it was brutal, and at least as hard as the day before, even though it was only half the distance. And that doesn't even include the gnats. Ohh, you little fuckers. For hours they swarmed my head as I toiled on at 5.5 mph, buzzing around my eyes and ears and nose and mouth, making me jerk about, close my eyes, change my breathing, and expend even more energy than I already was. After half an hour of that, my clouded brain finally remembered I had insect repellant, but if anything, that just seemed to attract more of them. I tried to cut them a deal: if you want to eat my sweat, have at it! Land on my face, and suck away, I won't even try to slap you! But no, the little assholes in their evolutionary idiocy just keep flying and circling and buzzing for no purpose but to annoy me. I unintentionally tried inhaling/eating them as a method of control, but that was ineffective against their numbers and just made me cough and choke. When I finally reached the park entrance station, I mentioned them to the lady taking my money, and she said "hold on" and ran to grab me a dryer sheet from her pack, which she said seems to have some effect on them. They had mostly gone away at that elevation, but I likely will have another chance to see if it works.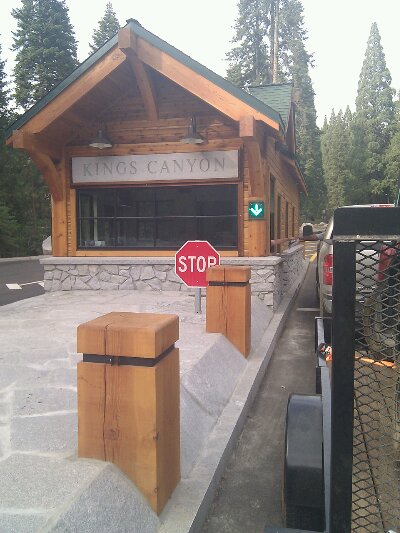 I was pretty beat, so I slowly set up camp, and then went back out to Grant Village to get dinner at the park restaurant. It's a relatively fancy place in terms of menu, and I got the braised short ribs with cream of asparagus soup. I was still feeling bloated, so it was hard work and took a long time, but it tasted really good and I finally got it all down. A German couple at the next table, Walter and Elizabeth, who had seen me on the road up (a whole lot of people mentioned that!) started asking me about my trip and eventually invited me to pull my chair over and join them at their table. They got me another beer (I was drinking Sierra Nevada and the Germans were drinking Budwiser!) and we talked for probably an hour about traveling, politics (American and European), and various other topics. So that was a nice end to a rough day, and even gave time to let my food settle a bit.