September 24th, 2012
29.8 mi / 3:08:03 time / 9.9 mph avg. / 2971 ft. climbing
Staying at Lodgepole Campground
After getting back from dinner last night at 9pm, I crawled into my tent and knew I didn't have the energy to finish my journal entry, but since it was still relatively early I thought I'd lie there and listen to some music. Well, I didn't even have the energy for that. I got my headphones out, but for a good 45 minutes could not even summon the motivation to put them in my ears and select some music. I would have quite liked to tune out the raging drum circle going on somewhere else the the campground, and I had the solution a foot from my head, but I just couldn't do it. Eventually I just rolled over and fell asleep, and slept pretty soundly.
Today's early-morning trek was to Grant Grove to see the 2nd (or 3rd,depends what sign you read) largest tree in the world by volume. Unlike the Coast Redwoods, which can be seen everywhere from the road, Sequoia groves are a lot more isolated, at least the really big boys. As hoped, I was the only one there, and I sat on a bench, ate some breakfast, and tried to comprehend the size of this 273 foot high, 40 foot wide tree. It really needs a house sitting right next to it to give you a sense of scale. What finally helped was imagining how much of an effect I would have if I spent a day whacking it with an ax. The answer I came to was "no effect".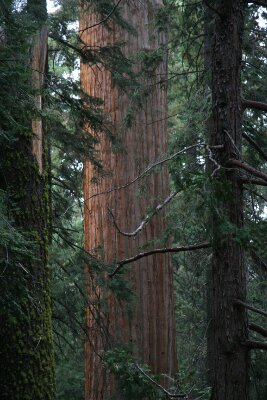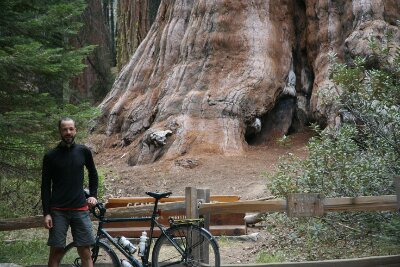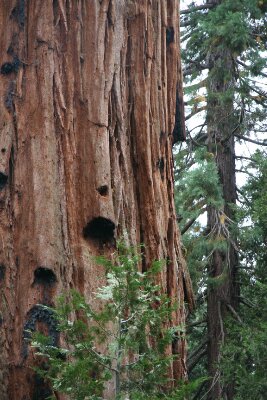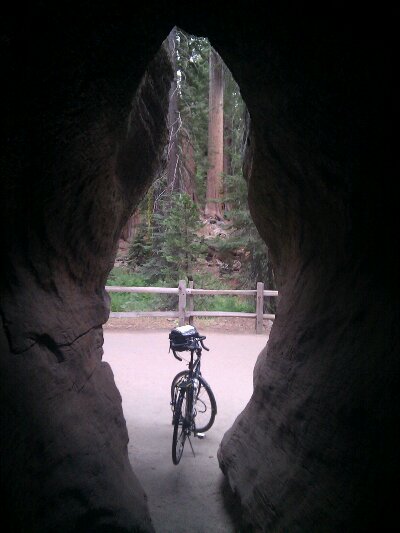 Today was to be short day, so after returning to camp and finishing up last night's entry, I finally rolled out at 10am, but then to only use the WiFi at Grant Village. My stomach still wasn't feeling quite right, but it was better than the day before. And all of today was between 6600 and 7600 feet, so heat would not be an issue. Nonetheless, I still felt tired and slow for the 30 mile ride.
Part way through, at an overlook revealing distant peaks of the High Sierras on the opposite side of Kings Canyon, I met a guy who, shortly after asking about my ride, immediately offered me one of the jelly donuts from his bag of donuts. Um, sure, I'd be a terrible touring cyclist to turn down a donut! Then he even supplied a wet nap, and when I was about to leave, went back in his car to offer a peach and plum he had just bought. After he insisted, I took the plum, but left him the peach. It was really good later on.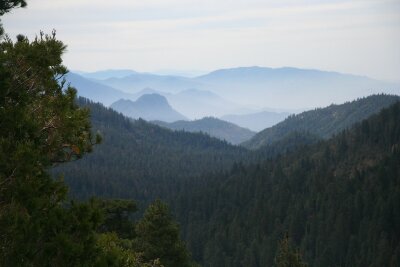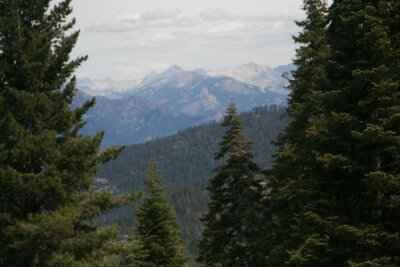 Most of the way through the day, I noticed that I would be fitting 3000 feet of climbing into this 30 mile day, so maybe I wasn't quite as tired as I thought I was. But I still think I'm not at 100%. Like yesterday, there was nothing flat, but at least there were downhills mixed with the uphills. And the National Park/Forest land at this elevation was far prettier than yesterday.
I got into camp at 2pm, left a note for Dennis, and went back down to the market to do laundry and eat some food. What? A note for Dennis? Yes, he was going to be joining me in camp tonight! He is out in Milpitas for two weeks for work, and brought his bike with him. Originally he was planning a weekend overnight down to Santa Cruz, but changed his plan to join me here, driving and parking at 4000 feet, then riding up the rest of the way. Isn't that cool? Thinking about seeing him tonight definitely helped during the ride when I was feeling most worn-out.
I finished my load of laundry (a mere $1.75 for the whole wash-and-dry), and 3 slices of pepperoni pizza (an outrageous $17, they must figure people will do their laundry after seeing the low price and then get some pizza while they wait!) Dennis hadn't found me yet, so I went back to the campsite, only to find that he had arrived, which was good, but he was nowhere to be found. So back again to the village where we must have just crossed paths the first time, I found him just wrapping up some snacks. It was great seeing a familiar face. We got some provisions (including beers!) and headed back to the site.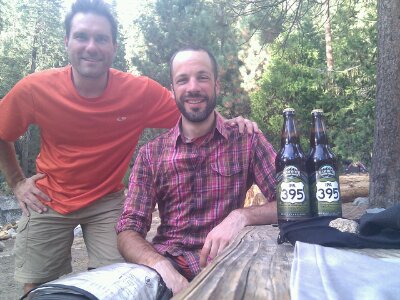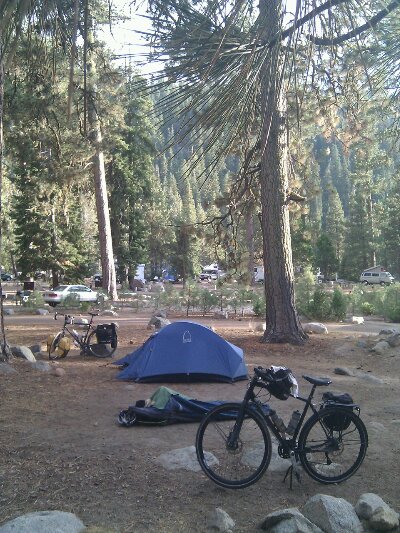 By that time, the campground was full, so it's a good thing I got there as early as I did! The park newspaper actually says that the campgrounds rarely fill, which, if they printed it, I interpreted to mean they never fill. And this was the end of the season where things have already started shutting down (including other campgrounds in the park, which is part of the problem, of course). Even an employee at the store remarked that it had been dead up until this weekend when it suddenly got crazy. I wonder if the hantavirus scare at Yosemite has ended up redirecting traffic to the next closest park?
When I arrived at our site initially, a family at the next site over was walking right through the middle of ours to get to the bathroom. Okay, they're used to having no one here, that's fine. But then even after I set up my tent, defining our site a bit, they kept walking right next to it. So then when Dennis arrived, and set up his bivy sack 5 feet from my tent, and I saw them walk right between our tents, I mentioned this odd/funny behavior to him. To put a stop to it, he sort of positioned his bike to block that path. So then later on that night, we couldn't stop laughing when, while sitting at the picnic table, we watched the woman avoid the bike, but nevertheless walk by within a foot of Dennis's bivy sack on the other side! Some people! Otherwise they seemed quite normal, and I'd even talked to them a bit  about my trip, but somehow they had no campground etiquette. It wasn't even that much of a shortcut vs. taking the road like a civilized person! Someone may have even walked right by Dennis's head later on when the he was inside his bivy, but I forgot to ask him in the morning.