September 25th, 2012
65.7 mi / 5:32:34 time / 11.8 mph avg. /4344 ft. climbing
Staying at Boulder Gulch National Forest Campground
I was dumb enough to schedule some stupidly difficult days into this trip, but luckily I was smart enough to surround them with easier days where I could have a chance to recover. This was one of those easier days, so I lazed around and didn't hit the road until 8:30, padlocking the bathhouse on the way out to prevent the deer hunters from coming by and taking all the toilet paper and stuff (really? Apparently all the people in Camp Nelson aren't as awesome as the ones I met.)
Ok, so it wasn't an easy day at the beginning. Of the 6200 foot climb I began yesterday, I had 2300 left to go today. But it's remarkable how much easier a climb is when you don't already have 77 miles under your belt, when it's 40 degrees cooler, and perhaps most importantly from a mental perspective, when you know that you aren't in a race against nightfall. So I knocked out the first 1500 feet without stopping, and then only took a second break because I saw a pretty meadow.
At the top is Ponderosa, another town-in-a-building that seems common in this area, where a restaurant, bar, general store, gas, and maybe motel are combined in a single complex. It was after 10:30, but the cook was nice enough to still make me some breakfast (the usual French Toast and sausage, which I don't think I've had since Tahoe).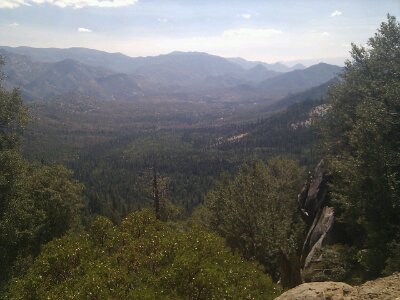 The rest of the day, 50+ miles, was basically a roll downhill. I stopped for a bit at The Trail of 100 Giants to see some more giant Sequoias, and found I could actually ride my bike down the asphalt path which was nice. I didn't do the whole thing, which is good, because just after I got back on the road, as I passed a cow that I said "moo" to, I saw a road cyclist coming the other way. We gave each other a big wave, but he suddenly slammed on the brakes and turned around. Well, I guess cyclists of any type aren't common here (heck, vehicles of any type aren't common!) and maybe he has some interest in long-distance touring. Only then did I notice that he was another tourer! Jeremiah was the first that I had seen in the 12 days I'd been on Adventure Cycling's Sierra Cascades route. The reason I didn't notice at first is because his setup is totally different than mine. His bike is a road bike, with tightly stuffed bags suspended and extending fore and after from the handlebars and seat, and a backpack on his back. In all he said his total weight is 70 lbs., so not a whole lot less than me, and he acknowledged that panniers may be in his future. I also wonder if shoes different than the Vibram Five-Fingers are in his future. He'd started 11 days ago at Tecate, Mexico, and it sounded like he planned to do the Sierra Cascades route to Canada, then come back down the Pacific Coast Route. We shared info about the road ahead for each other, he got my photo (don't know why I didn't get his), and wished each other much luck! If he has as much as I've had on my trip, he'll be ok.
A bit more screaming downhill, and then I finally crossed into the Kern River Valley. Unlike the other Sierra rivers, which basically flow west into the Central Valley, the Kern goes straight south, and in its upper reaches (which I would not be exploring) are surrounded by some tremendously tall mountains, as it basically cuts the Sierras in half lengthwise. It also must kill a lot of people, judging by all the signs warning of danger (and even the Camp Nelson bartender had mentioned its treachery). There definitely were a lot of rocks and tumbling water, but I managed to find a quiet spot to dip my feet, and wash all of yesterday's salt out of my shirt.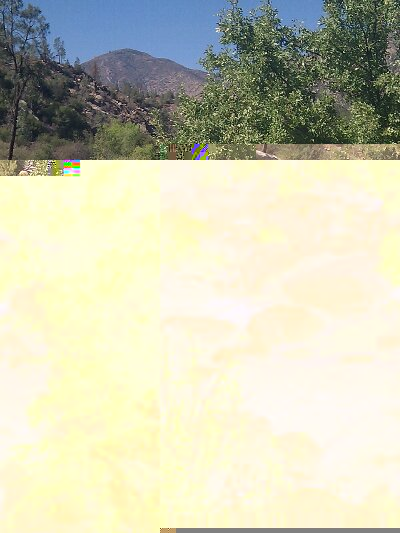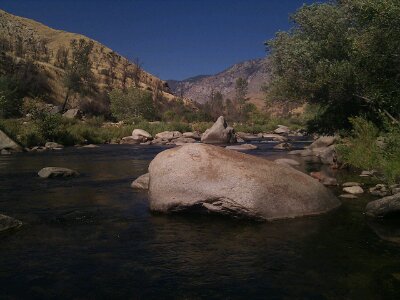 In Kernville, I reached the destination I've been waiting for since Oregon: the Kern River Brewing Company. Kernville is admittedly the largest town I've been through since Lee Vining outside Yosemite, but that's not saying a lot, so it's still a surprising place to find a brewpub, and I vowed to do my best to support their continued existence. I started with their new Dirty Hippie Imperial Red Ale, and a 3 taco plate, both of which were so good I went with a second round of both, their IPA, and three more tacos (swapping out the fish for tri-tip this time). And lucky for me, Monday just happens to be Taco Special Night! The only thing missing was WiFi, but I had decent mobile reception, so I did some Internetting there while waiting for the afternoon to cool and my wits to re-stabilize.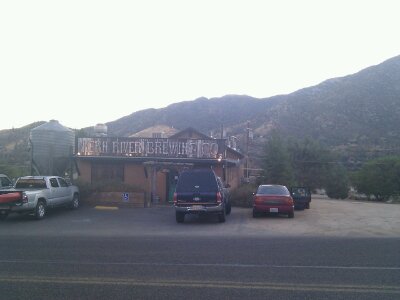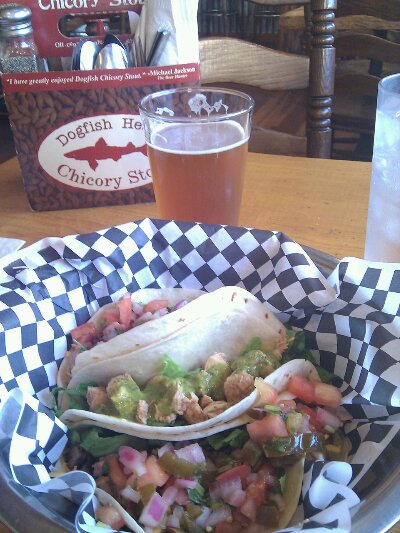 I don't think I've done an early-dinner-followed-by-short-ride-to-campground this whole trip, and that's something I always enjoy. Everything seems easier in the cooler weather, after a break, and with a belly and brain fueled by beer. So in another 8 miles I was in the campground, actually going a few miles further than planned for the first time, partly on Jeremiah's recommendation.
I think I'm going to make it!