September 27th, 2012
78.2 mi / 6:06:58 time / 12.7 mph avg. / 3858 ft. climbing
Staying at Monte Cristo National Forest Campground
I woke up exactly at 6am, and found that the ducks were still quacking away, though it hadn't prevented me from having one of the soundest sleeps of the whole trip. When I hit the road, it felt like it was really late and I was way behind, but it was only 8am. The difference was the wide Tehachapi Valley didn't have any nearby mountains to block the rising sun, so it appeared way higher above the horizon than I had become accustomed to.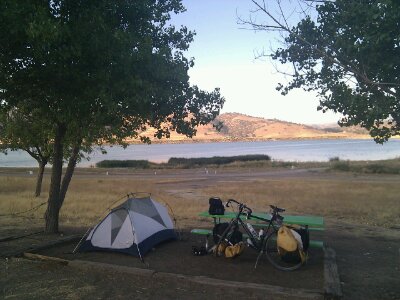 I took long, straight, Highline Road due east to leave the valley. It stays above and south of Tehachapi proper, so no more rants were inspired. I had a small lip to climb over to get from the Tehachapi Valley to the Antelope Valley. On that lip and running down the mountainside sits what I believe is one of the world's largest wind farms, which reduces my haughty disregard for Tehachapians a bit, though I was happy that for this morning at least, very few of the turbines was spinning.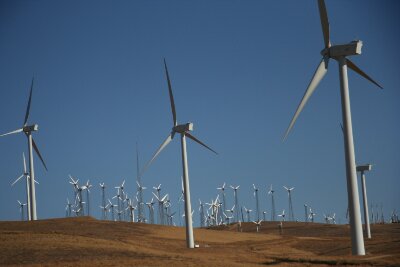 Then it was a long, gradual 2000 foot descent into the true high desert of the Antelope Valley. Sprinkled with Joshua Trees, it's so flat, they used to land Space Shuttles there, though a few pockets of mountains pop up in the interior of the pancake like bursting blueberries. The borders are defined by two geometrically inexplicable 5000 foot mountain ranges, forming a perfect 'V' that opens to the east. I descended from the northern range in the morning, climbed up the southern range in the afternoon, and spent the rest of the day inside Pac-Man's mouth, which thankfully didn't close on me.

I stopped for Internet at the library in Rosamond, which is a huge, beautiful new building that stays closed and unused 4 days a week. Strange, because unlike Piedra, Rosamond is actually a pretty big community with car dealerships and chain stores and all that. Even though it's in the middle of a desert.
From there I headed south southeast on the perfectly-angled Sierra Highway. It, along with the railroad and the Air Force Base, form the eastern border of Rosamond and the other middle-of-the-desert cities of Lancaster and Palmdale. It was nice to crank along for miles and miles at a steady pace. Temperatures never really exceeded the low 90s, so it was far from the worst heat I've faced, helped by the fact that I remained over 2000 feet above sea level. Through Lancaster and Palmdale there is a long bike path paralleling the highway, and despite the fact that it was on the wrong side of the road from me, it was actually really nice, because the railroad next to it meant there were almost no traffic crossings. And it was even lined with trees and plantings to give a bit of cooling shade, something that was nowhere to be found on the road.

As I slowed to take a photo of the Lockheed-Martin Skunkworks, I heard a "thup-thup-thup" on my front tire, and discovered something stuck to it. I pulled it off, and "psshh", out came the air along with the thorny thing. Dammit! Not so much that I had a flat tire, but I had been hoping to make it through two consecutive tours without a flat. Oh well, some 2500 loaded miles on a set of tires (Schwalbe Marathon Supremes) before the first flat is pretty darn good.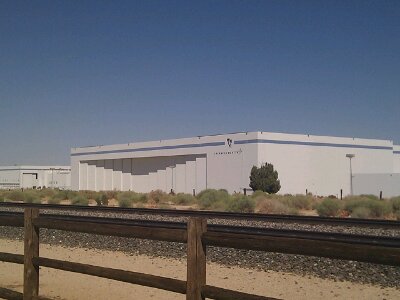 The front tire is the easy one to fix, so I quickly got that taken care of and since I'm in Southern California, made my way over to the In-and-Out Burger for a late lunch. Wow, they sure make ordering easy, with barely anything on the menu, but they had the 4 things I wanted: cheeseburger (double, of course), fries, a soft drink, and a chocolate shake. The cashier took note of my awesome cyclist tan, which he recognized from seeing on his cyclist friend. I made a grocery stop and a truly Mexican grocery where it was hard to find the white-man bread products, and then made a stop at the gas station to put more air pressure in my tires than my mini-pump is capable of. A sign informed me that California State Law requires air and water to be given for free to purchasers of gasoline. Does the attendant come out and just drop a quarter in the machine for you? I didn't find out, since I hadn't purchased any gas, so I just dropped my own quarter. Though now I wonder if I should have squirted a penny of gas on the ground and saved myself 24 cents!
Then it was time to climb the last Big Hill of the trip. At 2500 feet up into the San Gabriel Mountains, it would be the 30th climb of 1000 feet or more in 17 days. Since it was a state route, the grades never exceeded the range of my gears, so it was a nice "easy" way to go out.
On the way up, I found myself thinking of Greg Polerecky. He was one of the group of athletically-talented classmates of mine in elementary school. Due to my inability to regularly make contact with a baseball or shoot a basketball through a net, I learned at a young age that I was athletically inferior to guys like Greg. On the idiotic but culturally-unavoidable Jocks-Nerds Continuum, that resulted in a self-image that put me far on the "Nerd" side (truly, a badge I was never too ashamed to wear). But now that I look back, I realize I'm the guy who won the Gold Medal in the Cub Scout Olympics, I'm the guy who led my high school track team to a Conference Championship, I'm the guy who put down a 3:35 marathon just for the heck of it, and now, at 35, I'm the guy who is about to complete a conquest of the formidable Sierra Nevada Mountains. So maybe I'm a bit of an athlete after all. I really don't need to stroke my own ego more than I already do, and there's not even a strong logical reason to build that ego upon athletic accomplishments, but it's nice to dredge up and clear out a long-standing misconception of myself from childhood. It's just interesting to realize how ancient, fleeting moments like that can stick, and even though they mostly lie dormant, still have effects on our psyche. Of course I still can't put a basketball through a net very well, and I haven't tried to hit a baseball in years, but as long as I can keep my hands out of the equation I'd be happy to go up against Greg any time!

At the top, there was no elevation or summit sign, but that was fine, it was just me and the bike. I had 7 more miles to roll down to the campground, but for me, the day, and essentially the whole trip, was finished right there, 5000 above Los Angeles, in the warm glow of the late-afternoon sun. I was done, and although these mountains bent me severely, they never broke me, and of that I'll remain forever proud. That means I still don't know what my limits truly are, but I think it's no longer necessary to explore any further. They are farther out than I thought they were, and hopefully farther than I'll ever need them to be. And that's enough for me. Let's roll back down to the sea.