September 2nd, 2020
51.6 mi / 10.5 mph / 2220 ft climbing
Staying at Falls Creek National Forest Campground
Today dawned with that luminous mix of sun and fog that tells my soul that the Pacific coast is drawing near. Though once that burned off, it actually got hot, which, I guess we shouldn't complain about given that rain is supposed to be the dominant weather feature here on the Olympic Peninsula, and it looks like we're going to get the opposite of that. The first half of the day put us on some quiet and quaint country roads that were a bit more farming than forest. The second half had us back in the private forestlands, with sections where gray weathering stumps stood as tombstones and branch debris made massive burial mounds, marking all that remained of what once was green. But then came other replanted sections of various ages, so now I can do a decent job of telling you the age of a forest by looking at it, if that's a skill you need.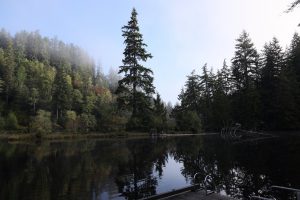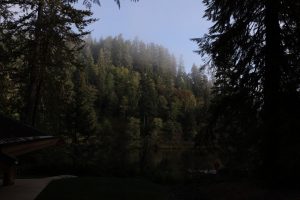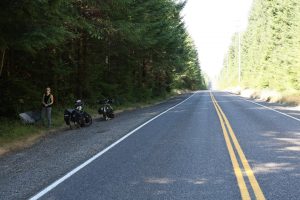 In Humptulips (LOL), we stopped at the small grocery/gas (basically the only one we saw all day) for some cold drinks, and finally it felt a bit like bike touring in non-COVID times. Part of that was because we actually chatted with the owner for a bit, which is something that happens a lot less that normal. She said the usual "hundreds" of bike tourers that pass through on this popular route each summer have been only a trickle this year, which isn't too surprising, especially since after two and a half days, we hadn't seen any either. On the other hand, she said they've got more people in cars than normal. A pink-haired Native girl driving a pimped-out Civic overheard us and warned us that there was "a breakout over by Quinault Lodge, which they're keeping quiet". I presume she meant COVID-19, which wouldn't be problem for us since we'd be 100% outdoors, but a valuable warning in a place where I'd figure most people wouldn't care (though the Indian Reservations here are all closed to outsiders due to COVID-19).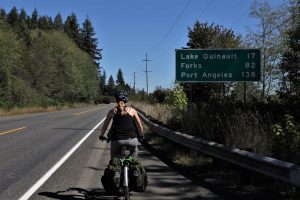 And then when we reached camp on Lake Quinault, there were a couple of bike tourers on a tandem! We chatted for a bit, shared shockingly similar stories about COVID altering our bike touring plans, and offered them a spot at our reserved campsite, but they were able to grab one of the non-reservables. Would have been nice to talk to them more, but that little bit even made us feel more connected to community.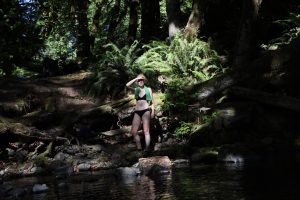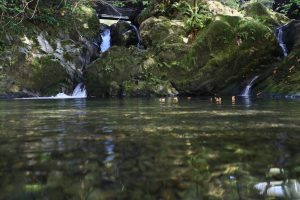 Since we are only out for 8 days, we managed to make reservations for most of our nights during this super-busy season. Full campgrounds are always a problem for bike tourers, who often arrive late in the day and don't know where they'll be in advance. Many places on the west coast (including Washington State Parks) hold aside "hiker/biker" campsites, or often you can find someone willing to let you set up in the back of their site. But we figured people would be a lot less-willing to approach us and offer their site in these times (and those who would make such an offer would likely be the exact people we'd want to avoid!) so we just figured making reservations would take the pressure of everyone. But obviously we'd be wiling to share our reservations with people who understand this pandemic isn't "fake news".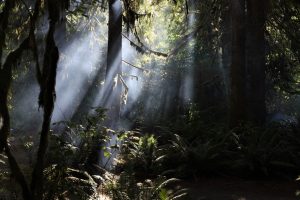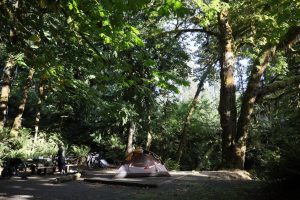 So then, as we finished up our third Rett-genius meal in a row (Margherita Mac & Cheese, with tomatoes, basil, and mozzarella balls!) a different couple on bikes came over and asked if they could share. Of course! Our site was ridiculously huge and awesome, so it almost felt stupid to have it all to ourselves anyway. We had already taken showers in the waterfall-fed creek right next to the site, recommended it to them, and as they said afterward, it made us feel reborn in a way that a campground shower never could. Will and Sierra are more off-road bike-packing than us, but still had some great concessions to comfort that we like too in our old age, so it was really generous of them to share their experiences with us in the fading light when they hadn't even cooked dinner yet. They're headed the same way we are, so it would be great if our paths crossed some more, but if we don't see them again, hopefully there will be others now!