September 3rd, 2020
62.90 mi / 10.81 mph / 2330 ft. climbing
Staying at Bogachiel State Park Campground
Today our ride covered the clock face around the Olympic Mountains from approximately 7 o'clock to 10 o'clock. At 9 o'clock, we were directly on the opposite side of the mountains from Seattle, riding along the Pacific Ocean, in a whole different world from that city at the 3 o'clock position.
In terms of the actual time, our ride covered a significantly greater chunk of hours. This was easily our biggest push of the trip 'til the end, so we were up at 6am and soon into the white fog that rendered the formerly-expansive Lake Quinault completely invisible. The fog quickly gave way to deep blue skies and more riding on US 101, our exclusive route for the day. We got groceries first thing in the morning, because there wouldn't be anything even attempting to resemble a town for the entire 63 miles. Like I said, the total opposite of the other side of the mountains, where the Seattle metro area runs for at least that long.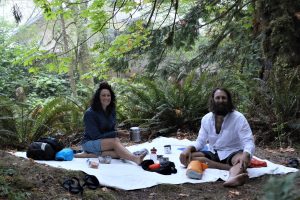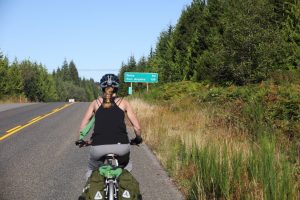 The main reason for the difference is presumably the rain. The west side of the mountains gets more than 100 inches of rain a year, while the Seattle area, in their shadow, gets around 30, about the same as Chicago. While it's beautiful here during this rain-free week, it makes it hard to imagine the "normal", always-wet state-of-affairs that exists here for the majority of the year, and it feels like we're visiting the place without coming anywhere close to knowing it.
Anyway, back to the Pacific Ocean! We rode our bikes to the ocean! That makes two oceans Rett has reached on her bike, which is an inspiring achievement for someone who didn't learn to ride a bike until she was 35. At Kalaloch beach, the gray driftwood merged into the gray sand which merged into gray sea and into the gray coastal fog that lived and breathed within a mile or so of the water. We saw the "Tree of Life", or better, Yggdrasil, as it's a tree whose roots are as visible as its crown. It was easy to imagine Viking longboats pulling out of the fog and onto the beach behind us, ready to go to war against the werewolves to claim the land.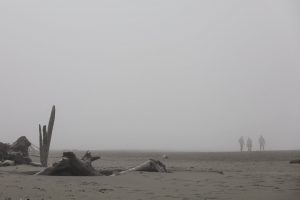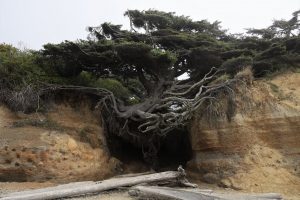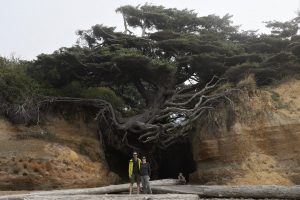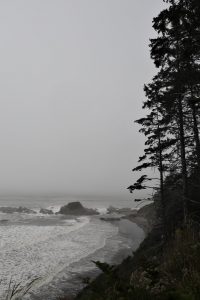 After four tough days spent 99% outside, Rett's ability to walk around camp is better than it's ever been on a bike tour, a testament to all the prep and learning and training she's done for this one. Our campsite is nice but the least spectacular so far, but the bathrooms/showers at Bogachiel are top-notch! So clean! They must actively root out the bugs every morning, because there were none, despite the wide-open doors! And, despite the long day, we still had time for our first campfire of the trip! Yay, bike touring!