September 14th, 2016
62.4 mi / 5:16:53 time / 11.8 mph avg. / 3862 ft. climbing
Staying at Tranquillity Lodge
Throughout Rett's struggles through yesterday's climbing, she was aware that today would be at least as bad. What she wasn't aware of, because I explicitly hid it from her, was that rain would be poured on top of today's hills. I had been hoping for days that the forecasted 90% chance of rain would fade away before it ever needed to become an additional stressor, but the forecast never wavered.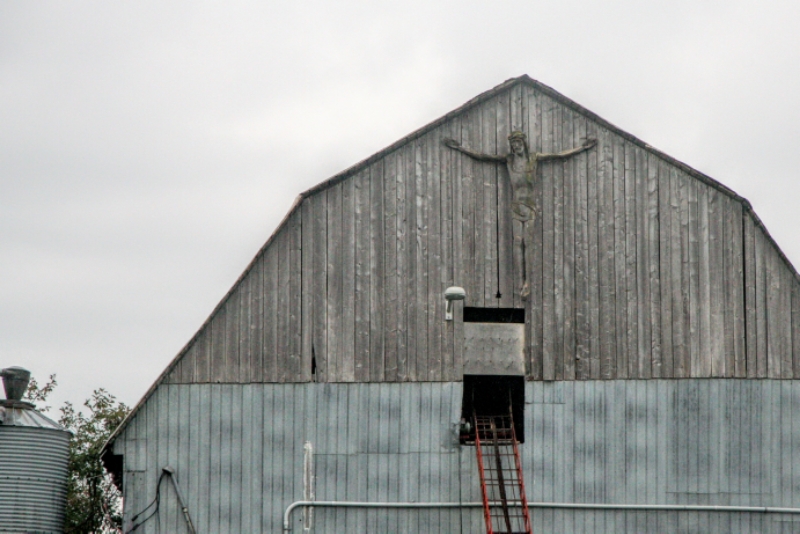 When I finally told her, she obviously wasn't excited, but she kept a positive and accepting attitude. Luckily we live in an era when we can see the approach and passage of rain in near real-time on our handheld supercomputers, so we were able to dally around the B&B a bit to let the first round pass. We made it about ten miles before the next wave caught up with us, getting us wet just before we were able to dive into a cafe for hot cocoas in La Patrie.
Even without the rain, this was a much harder day than yesterday. Most of the climbing was packed into several long, steep ascents in the first 30 miles that took us up and over the spine of the Appalachians. There were extended climbs of 11%, and Rett powered through them all, indicating that she might have already started adapting to hills? It was during one of those climbs that it suddenly struck me how an 11% hill is something that normally tears me to shreds; it was only the extensive months-long training that Rett put us through that made it manageable for me, which was nice, but the downside was that it had also made me forget how insane it is to take a loaded bike up such a hill. Yet here she was doing it nonetheless!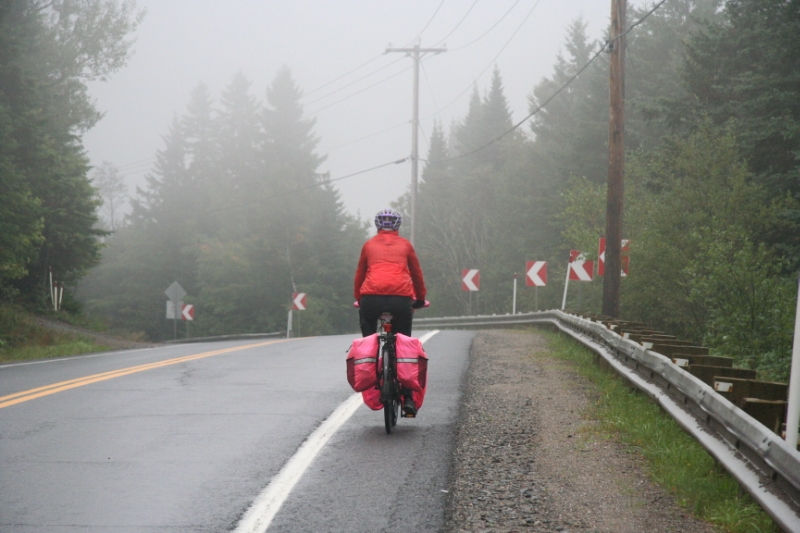 Crossing the high point of the Appalachians was significant not just mentally, but topographically as well. Despite our continual rise and the occasional isolated mountain we'd seen over the last couple days, the land mostly rises all together on the western slope, while once we came over the top, there were suddenly mountains everywhere around us, even though we would spend the second half of the day on a gradual downslope following the Arnold River.
Before we got to that point, we had to decide whether to cut the day in half and stop at the last motel before the US border, or make an additional 30 mile bet that we would be able to make it to civilization on the Maine side of the border. With our late start, stops to dodge the worst of the rain, and Rett being really tired, it was a risky gamble fairly late in the day, but trusting my topographic maps, we decided to go for it.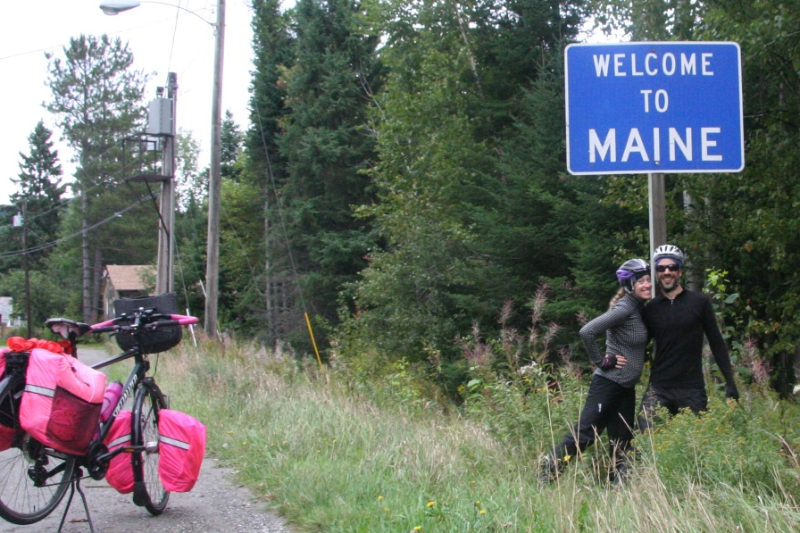 The border crossing at Coburn-Gore was almost empty (mainly logging trucks were all that was left besides us on the remote forest road) and trouble-free. The relaxed border agent even gave us a motel recommendation. Both Rett and I felt some relief to be back in a country where most everyone speaks the same one language that we know. We both loved our five days in Canada, and never even had a serious problem with the language barrier, but we both feel a low-level stress when it comes to unpredictable personal communications (I think because we both irrationally dislike being "wrong"), and the language barrier makes that even worse. So even though it makes me feel a bit like an uncultured xenophobic boob, it was surprisingly pleasant to have that stressor removed.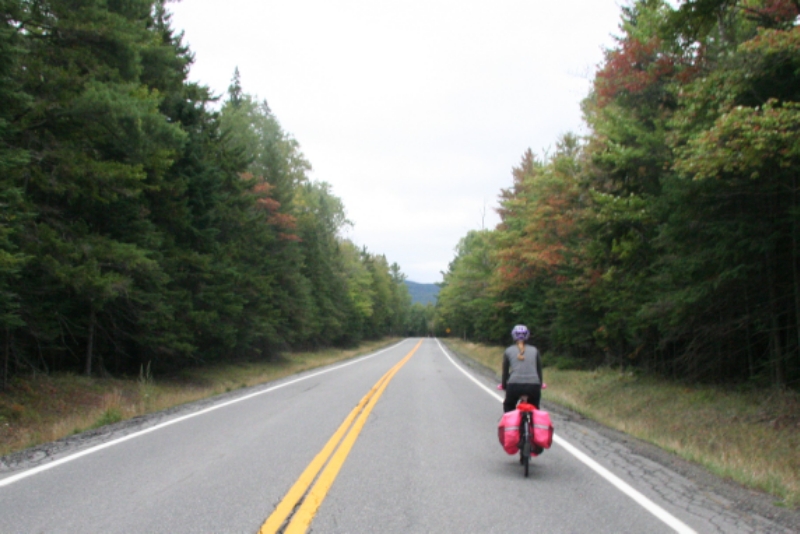 The next 15 miles were incredible. The first car didn't pass us until 7 miles past the border, so we basically had the road to ourselves, and we were generally flying down the hill. Even when we had an incline, we were generally rewarded with a view of a mountain lake or stream. It felt like we had truly made it over the hump.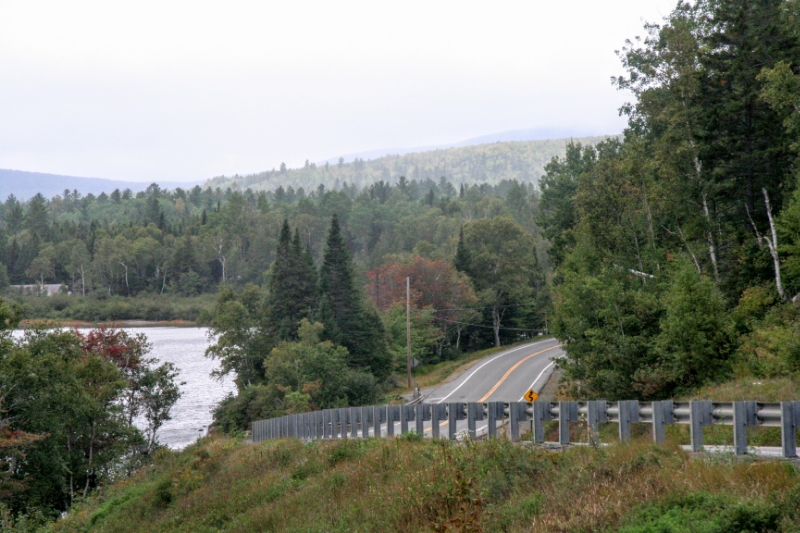 But then the light rain returned, those inclines amidst the descent kept coming, the accumulated miles reasserted themselves, and Rett's mood (understandably) began fading again. For almost the whole day, we had agreed on skipping the planned campground and continuing 3 miles further to a motel, but we briefly raised the campground idea again, only to discard it when the first blue sky of the day appeared while it continued to mist on us. We're not idiots, we recognize a trap!