September 23rd, 2016
58.6 mi / 4:28:29 time / 13.1 mph avg. / 1364 ft. climbing
Staying at Salisbury Beach State Reservation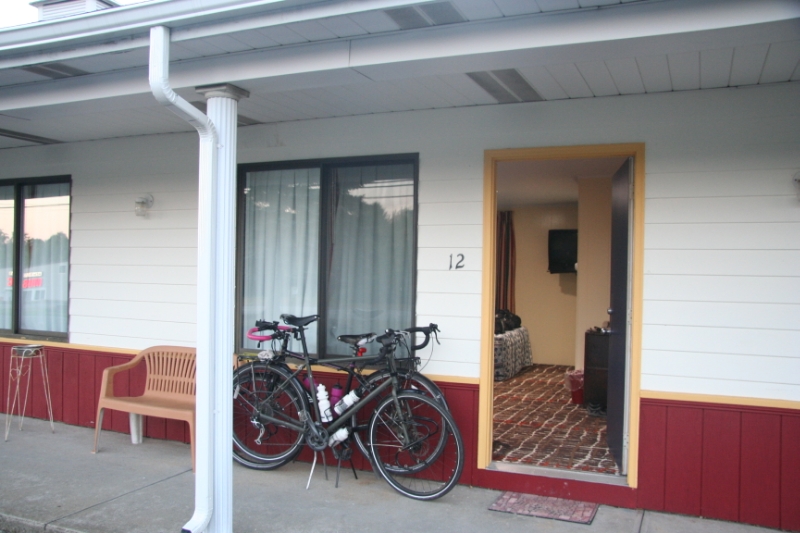 If yesterday was our partial return to capital B, capital T "Bike Touring", today marked our full return. We started the day again back on busy, loud (especially since some light rain had wet the road surface) US 1, where for a stretch it seemed like every other building was a motel, and not all the cheap kind that we had stayed at. When I saw a a motel with three electric car charging stations, I knew we had finally crossed over from Trump-supporting northern Maine into the blue northeast. At Ogunquit we left US 1 and branched off onto not just quiet, local roads like yesterday, but quiet, local, ocean roads.
Ogunquit was filled with silver-haired empty-nesters strolling along the walkable and winding strip of hotels, restaurants, and shops, having waited out the summer like we did before taking their vacations in a quieter time. It felt like we had returned to Bar Harbor. We got breakfast as the tourist strip was giving way to residences, and with our bicycles parked right in front, avoided the $10 fee we otherwise would have had to pay to park in a lot across the street.
The Shore Road started in the woods, and reminded me of Kring Point State Park from our second night in New York. Huge swells of rock rose unasked-for in front yards, or next to houses, but were accepted and sometimes even integrated into the architecture. Next we came to a rarity in oceanfront property: houses built to face the sea, but still surrounded by thick woods, the best of both worlds. Then finally we genuinely came to the ocean, riding a two-mile stretch where the only thing between our asphalt and the water was a broad stretch of sand. Ahh. That's bike touring!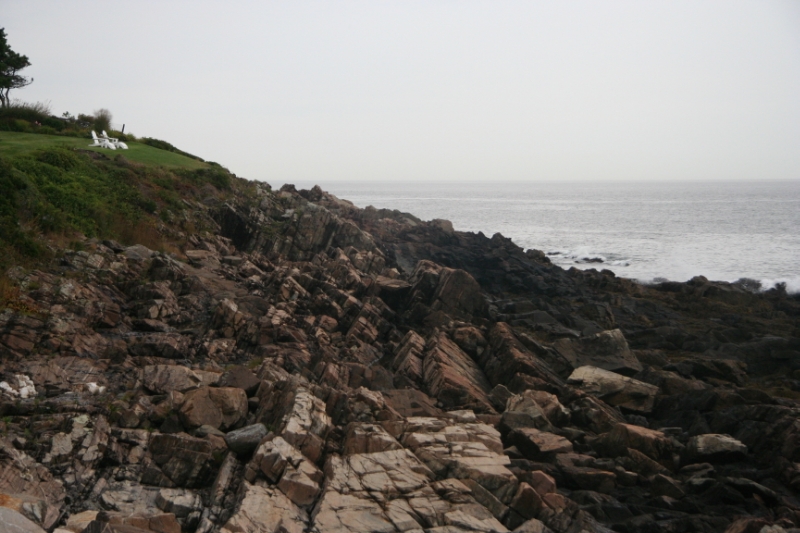 After that, the noise coming from my rear wheel finally became annoying enough for me to stop and check it out. It turns out it was a part from my rear fender that had come loose and was rubbing my tire. I had to break out the tools, but was able to get it fixed pretty quickly. It was a fortuitous stop, because Rett was suddenly overcome with an unfortunate unstoppable internal force, and for the first time in her life had to take care of that business without any walls surrounding her.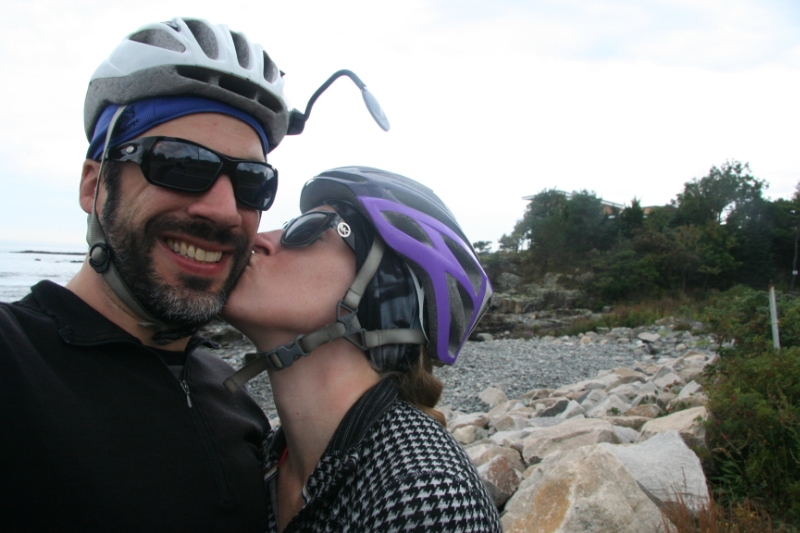 It turns out her endeavor was a lot more successful than mine, because shortly before we set off again, PING! A spoke in my rear wheel broke in half! That's much worse than a little bit of rubbing plastic. We rode on a bit to the next town, where Rett got a hot cider (and took advantage of their walled bathroom) while I set to work seeing if I had the equipment and ability to replace a spoke. It turns out I did, but it was frustrating that I was forced to burn a bunch of good riding time on what we hoped would be a pretty long day. It was the same wheel that had its spokes loosen early on in the trip, a wheel I hadn't touched before we started the trip. I figured that my newly-acquired wheel-building skills were likely to only make the factory-built wheel worse, not better, so it would be better not to mess with it unless necessary. But now 1000 miles of riding had surprisingly proven the opposite: the two front wheels I had built for us still seemed perfectly fine, while the wheel I trusted was falling apart. At least now I know I should just build all my own wheels from now on!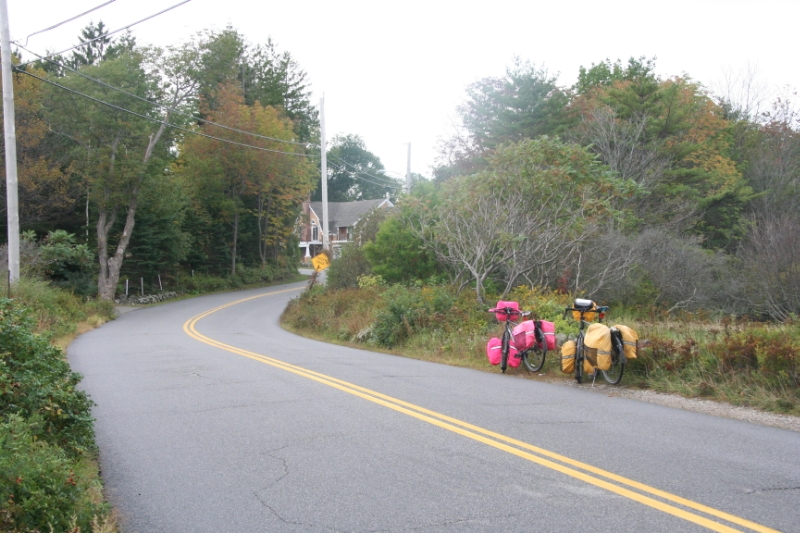 We rolled on to New Hampshire, with yet another absent state-border-crossing sign at which to get a picture. Crossing the bridge into Portsmouth, Rett was excited to see another female bike tourer (along with perhaps her father?) in front of us. Their heavily-faded panniers and stickers from all over the world suggested that these were true world-travelers, but unfortunately we didn't get a chance to speak with them because we headed off to the Portsmouth Brewery for lunch, while they continued on and likely would have been flabbergasted that we spent their weekly food budget on a single meal.
Afterwards we got back to the beach, and after passing some truly monumental oceanfront estates, discovered that we had magic bikes that were trying their best to get us to our (and their) destination before it got dark. Or it might have just been a big tailwind pushing us along, I'm not sure. Rain had been in the forecast all day, and we had caught an occasional sprinkle, but as the day wore on, the predicted afternoon showers were instead pushed to nearly-guaranteed evening rain. So having gotten lucky all day, we really wanted to make it to the campground and get the tent set up before our luck ran out.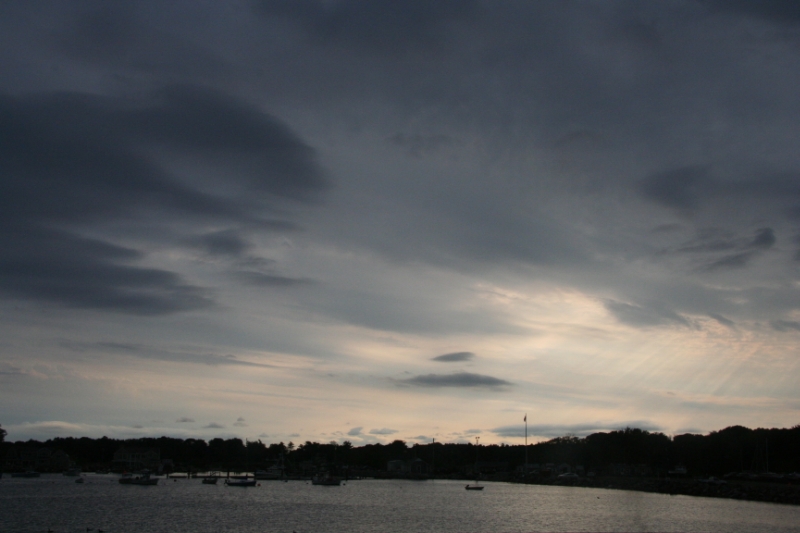 We reached Salisbury Beach State Reservation and its giant 450+ site campground as dusk was approaching. The entrance station (with 4 spread-out lanes, like approaching a toll plaza) was closed, so we just continued on and picked an open site. Just as we were about to stake down the tent, an RV pulled up and the driver informed us we were on his site. Crap! He was totally cool about it, and there were plenty of other open sites, but since there was apparently no way to know whether a site was reserved or not, we feared that anywhere else we set up would put us at risk of being forced to move on again. Luckily, some other nice RV campers came up with a solution: we could just set up our tent in the back of their sites, eliminating the worry about being displaced. As a bonus, they told us then that there was no reason for us to pay for a site, since we weren't actually using our own site. They even suggested that we park our bikes behind one of their RVs to shelter them from the strong wind and oncoming rain.
As we set up camp and cooked some dinner in the tent vestibule, I overheard the old-timers talking about the huge snow piles they'd gotten in the area a couple years ago, and how one of their neighbors pushed snow right into their driveway. "That's just how people are these days", one of the guys lamented. What?! No! Shut up! You're how people are! Giving a hand to weary travelers and asking nothing in return. I may be younger, but through these trips I'd like to believe I'm at least as much of an authority as he is on "how people are"!